Toddlers love playing in water – at least mine does! The proof is in the first water table video and now I have more proof below!
Because I know how much she loves playing in water (the cat water, bath water… even a cup of water), I knew she'd be happy to help me review the HABA Waterpark Starter Set with Seesaw from Maukilo. It's not really made for our water table, but I figured that was the best place we had to set it up for now. (Please note, I don't have ALL the pieces from the set on the water table.)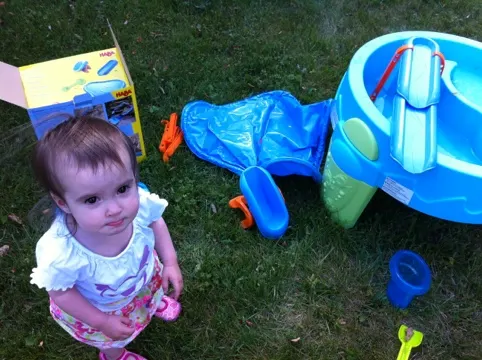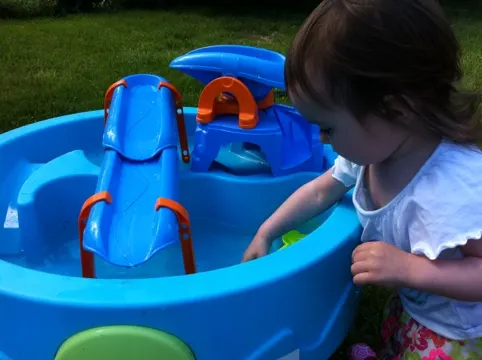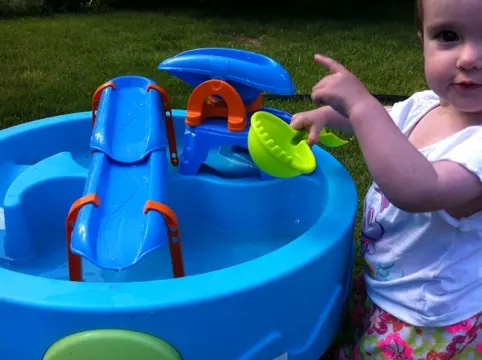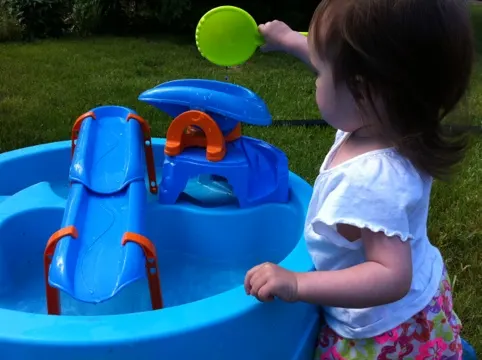 I went with a very simple set up, but with additional pieces you can have an elaborate set up. Even if you have a sandbox or other boxes etc that you can make use of to set up the water slides. I, unfortunately, don't have much to work with at the moment. But, we made do with what we had and Rissa loved it! She happily scooped water into the seesaw and would ask me to do it too. Once the seesaw has enough water, it tilts, pouring water out and down the slides!
While Rissa is entertained by high tech toys, her favorite toddler toys seem to be the ones that don't require batteries. I kind of like that, especially when it comes to playing outside. The toy selection at Maukilo includes a variety of toys that spark creativity and use the imagination. They also have a great selection of wooden toys! And, let's face it… batteries get expensive. It's kind of nice seeing her explore toys that don't use them.
See how much fun Rissa is having with her new water toys!

(Video)


About Maukilo
When it comes to unique, high quality toys and gifts, Maukilo is unmatched
in selection. Whimsical and innovative, our baby toys and toddler toys
reflect our values of staying playful and environmentally-friendly.
Owned by HABA, the German-based forerunner of wooden kids toys, Maukilo has
always offered a variety of European toys that serve to educate and inspire
children throughout the years. Designed with creativity and incomparable
durability, with Maukilo products you can truly Buy Once, Play Forever.
Connect with Maukilo on Facebook, Twitter and Pinterest!
________
Disclosure: We received a Waterpark Starter Set to try out and review. No other compensation was received, but we sure do love testing out toys!