What is it about mermaids that is so fascinating? I know when I was little I thought they were the coolest. I wished I could be like one – probably because I couldn't swim. There is just something about them that is fun and mysterious!
We see this in kid movies, like The Little Mermaid and in kid shows like Bubble Guppies (they aren't technically mermaids but you know what I mean!). Though I've been surprised at the amount of movies I've watched in the past year or so that depict mermaids as beautiful creatures that aren't very nice.
I like to think they are beautiful, graceful AND nice, thank you very much!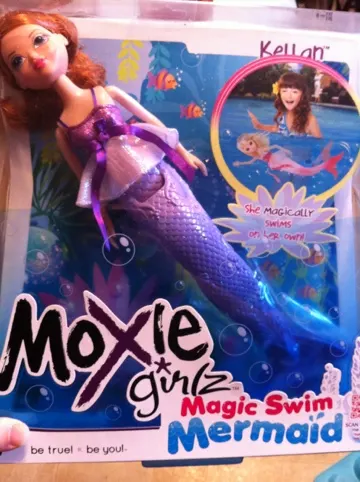 This summer's hot toys include a few mermaids, but none are as cool as the Moxie Girlz Magic Swim Mermaid! Kellan and Avery are mermaids this year!
See the Moxie Girlz Magic Swim Mermaid doll in action!
(Video)
We all crowded around to see this: me recording and talking, my husband putting her in the water, and my daughter watching with worry! She's meant for children 4 and up, but with supervision I let my daughter play with hers.
It's pretty neat how she swims when placed in the water. (There are sensors on the back at the top of the tail.) My daughter didn't like the sound her swimming doll made so she plays with her without batteries for now. She can swim in the tub or the pool – wherever you choose! After taking yours out of the box you might want to wipe down her tail a bit to remove excess glitter before letting your kiddo play with her.
Now those childhood dreams of swimming with mermaids can come true!
What do you like most about mermaids?
____
Disclosure: We received the above mentioned dolls in order to test them out and review them. No other compensation was received. Ours spend more time out of water but are definitely dolls my daughter likes! Also this post contains my affiliate link for Amazon.