Cloth and travel… or even just errands and outings is an important topic now that summer is around the corner! It's the time of year when more of us get out and around. (Especially here in Wisconsin – we no longer need to hole up in our homes!)
The day my first cloth diapers arrived, I was sad that I couldn't use them right away. Three came and needed to be prepped, but we were heading out of town for a funeral. Being brand spanking new, I didn't know how cloth mixed with travel. After we eased into using cloth more full-time, I still brought disposables along in the diaper bag.
Why?
Because I was afraid I'd go through all the cloth diapers I brought with or that it'd be easier to just use disposable. The first lengthy outing was to my sister-in-law's house. We planned to be there almost all day. I only brought a few cloth diapers with, then had to switch to my extra disposables. I was sad, but figured mostly using cloth was better than none.
Later I learned I just didn't have the right equipment!
The first thing I was missing was a small wet bag. I had no real plan for storing wet and dirty cloth until we got home. I tried plastic bags and even a ziploc storage bag.
Yuck!
I don't recommend that at all. So that was the first issue. The second was not knowing how many to pack and/or they took up too much room. It's taken me some experimenting to find what works for us. Maybe it will help you too?
At first I thought All-in-Ones (AIO) were the easiest since they operate just like a disposable – easy on, easy off. But, they are bulky for packing in a diaper bag and take up a lot of room in a wet bag. Pockets can be useful if they are pre-stuffed. Again, there's the room factor. For short trips running errands, tossing an AIO or pocket into the diaper bag can work fine. I often keep 1-2 FuzziBunz in the diaper bag for quick trips.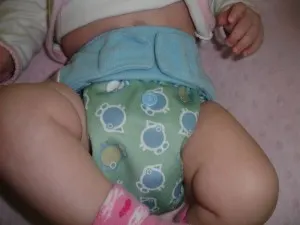 Covers are easy to pack and prefolds aren't too bad either. This has led me to love using All-in-Twos (AI2) or hybrid diapers. I find the snap in inserts for our GroVia AI2s to be more absorbent than a prefold, yet trim. And they take up less room in the diaper bag! There are also disposable insert options from companies such as GroVia and Flip. Some people like these options if the are going to have limited access to laundry facilities.
Short Trips
Small wet/dry bag
AIO or Stuffed Pocket or Shell with a couple inserts or prefolds
(If you don't want to have any dirty laundry, then disposable inserts)
Longer Trips
A large wet/dry bag
Covers/shells, inserts (disposable and cloth) and prefolds
AI2s
What else you have room for and will need (length of trip is a big factor)
Or like me recently – I overpacked by having one small bag packed with only diapering stuff (including cloth wipes!). I had several prestuffed pockets, a few AI2s, covers/shells, inserts and prefolds. The prefolds let me expand the extras without too much bulk. I loved taking AI2s though so I had less unstuffing to do. When on the go, this is not always easy or fun. (Plus, I don't like just using hand sanitizer after a particularly wet or dirty diaper if there's no sink nearby!) This is why I love the GroVia snap in soaker – it has PUL (oh, did you see Mariah's awesome reference for cloth diaper terms?) on the back to help keep the cover dry. It provides a dry and clean(er) place to grab the insert when removing it from the shell and transferring it to the bag!
Even though I may have overpacked, I felt comfortable because we didn't come close to running out. I also felt good about using cloth on the go. I am much more confident in my use of it now… even if I overestimate what I need! I keep thinking "what if she poos a lot…" it always happens when it's inconvenient, right?!
Do you diaper differently outside the home? What is your go-to outing diaper?
Don't forget to check out Mama On a Green Mission's and Forumla Mom's thoughts on this topic!