If you've ever had a baby, you know how much you are in need of a few self-esteem boosters in those first few weeks and months. Your body has undergone a drastic change, and you may have extra weight, loose skin, bags under your eyes from lack of sleep or milk dripping endlessly making you feel far from sexy. Sometimes for your own mental health, you just need to find something to give you a lift and make you feel like a woman and less like a feeding machine.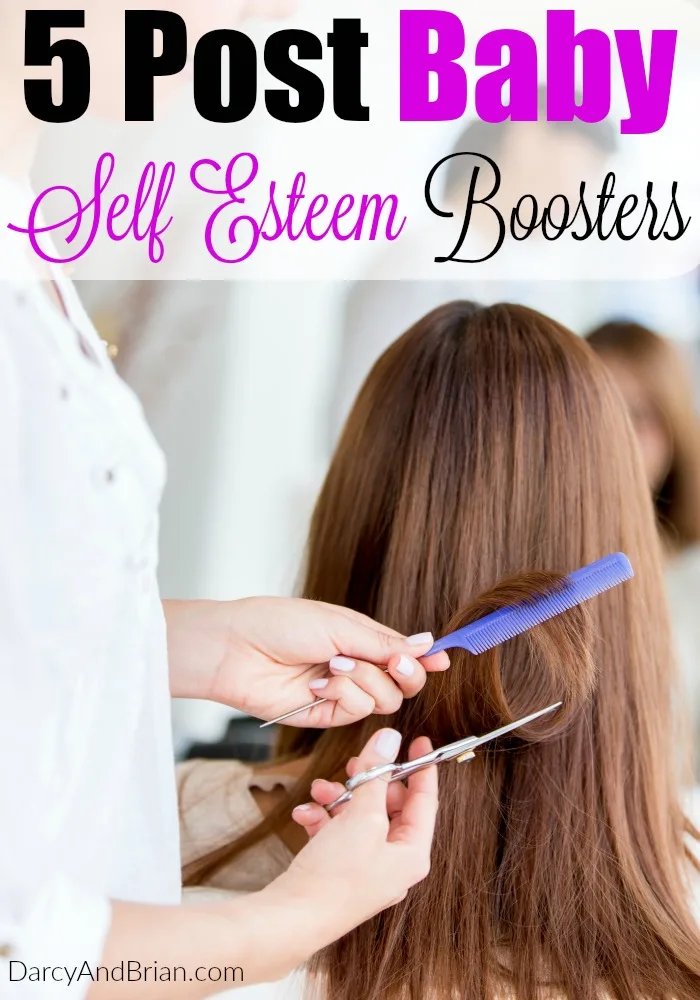 5 Post Baby Self Esteem Boosters
This post contains affiliate links.
Dress up for date night. It's really important to connect with your spouse after you give birth. You'll both be excited about the new baby, but also exhausted all too often. The doctor may or may not have given you the go-ahead for physical intimacy yet, but that doesn't mean you can't go out on a date for some one-on-one time. Even if you have to take a nursing baby along, you can easily find something nice to wear that covers some of the areas of your mom bod that makes you feel self-conscious. Long loose skirts, wrap dresses or even jeans and a nice sweater can all make you feel sexy and pulled together. Even if it is just putting on perfume and a bit of makeup, a date night can really help you feel better.
Sexy lingerie. Nursing bras and granny panties don't leave you feeling great about your body. Thankfully, there are some amazing full coverage nursing bras that are also beautiful and can make you feel sexy again. Even if what you find is simply a nice satin pair of pajamas or a simple silk nightgown, do something that makes you feel a bit more attractive for your partner.
A new hair style. Many moms forego dying their hair while pregnant. Others may just be tired of a constant ponytail to keep the hair out of their baby's hands or mouth. A fresh new cut and style can totally change your look and how you feel about yourself. Whether you get a new color, clip a few inches for a new easy to maintain style or go drastic and cut off all of your length, a new hair style can really make you feel fresh and new again.
A manicure or pedicure. Sometimes it is just in the little things. A manicure or pedicure can help you feel pulled together and more feminine, which is often really important post baby. If money is tight, you can buy a set of fun mini nail polishes and just have fun giving yourself an at-home pedicure instead!
Look at the baby in your arms and how you created that. There is nothing better in the land of self-esteem boosters than to look at the beautiful new baby you just gave birth to. Your body held that baby for months to nurture it and protect it until it was ready to come to live outside your womb. This is the best thing you can do for your self-esteem. You did this and you are the reason that baby is alive and in your arms today, remember how big that is and how important you are.
If you are in need of some self esteem boosters during the weeks and months after giving birth, this list is a great place to begin. Sometimes, however, you just need to hear reassuring words. Don't hesitate to ask your spouse to encourage you. This isn't weakness or asking for attention, it is being vulnerable enough to be honest about your postpartum needs.
Check out our other top post baby tips!
Eating Healthy While Breastfeeding