We received new Peppa Pig toys and a book to review courtesy of Fisher Price and Candlewick Press. You know the kids loved helping me review these!
I don't know what exactly it is about that little British pig, Peppa, but she's adorable and kids love her. Rissa still plays with the Peppa Pig Peek & Surprise House we received last year. Some of the pieces are missing (and scattered across the house) but it is still played with on a fairly regular basis. Xander tries but he's too little. The Christmas book is still in our library and is pretty much memorized by Rissa.

(Video)
Needless to say, she was ecstatic about new Peppa Pig toys! The new book is about going to school, which Rissa seems interested in. (She tells me that she loves teachers. That's good, right?) It's joined the bedtime story rotation for now.
We also received Bedtime Peppa (Amazon referral link), a plush version that sings, snorts, and is just cute. This one is easy enough for both Rissa and Xander to activate. Her cheeks light up and she sings/says different things based on if she is laying down up standing up. Her blanky is attached to her hand too. I thought we'd lose that within a day or so, but after a couple weeks and both kids tugging on it, it has been detached. Xander actually plays with Bedtime Peppa more than Rissa does. He really likes singing toys lately.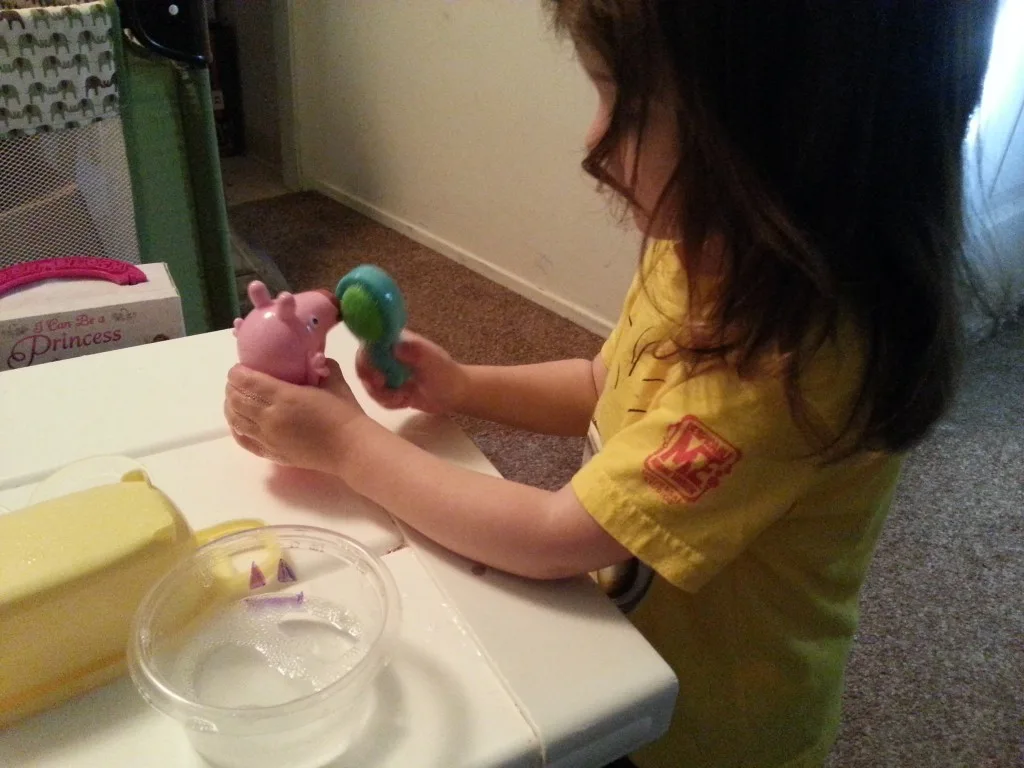 Now, Rissa was the most excited about Muddy Puddles Bathtime Peppa. I liked that the pieces in this set were bigger and thus less of a worry for being around Xander. In this playset Peppa has a couple muddy spots that you scrub clean using a brush and warm water. George is a bath squirter toy and the yellow bathtub can be suctioned to your tub's wall. Unfortunately the toy tub can't hold water because of the holes in the drain. I had to get a separate bowl for Rissa to fill with water while playing in the living room (instead of during bath time).
While Rissa does enjoy playing with these toys, the mud scrubbing didn't work well for us. It either takes really hot water or a ridiculous amount of scrubbing to have the spots fade enough to appear like Peppa is "clean." We've run into this with other toys with heat activated color changing spots. Thank goodness they are fun to play with regardless!
I think it is safe to say these will be some hot holiday toys for 2013!
Products are available on Amazon (affiliate link).