I was going to specify "carpet" in the title but didn't want everyone's mind in the gutter. Except.. now it is, isn't it? That's okay, I'll wash it off with my new Hoover Max Extract 60 (Amazon affiliate link) we received to review!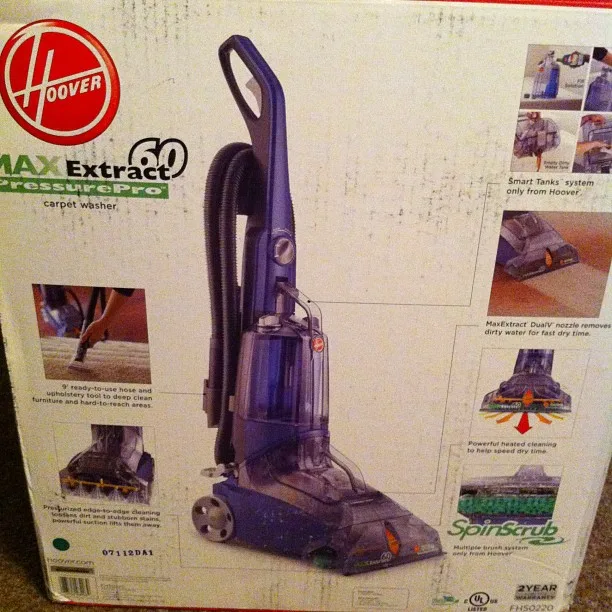 Our carpets get a lot of traffic from Brian, Rissa, our 3 cats and myself. Our kitchen is tiny so we eat in our living room space. Yes, that means our carpets are subjected to toddler food spills and hairballs and other yakked up grossness from the cats. You've seen her yogurt face pictures, right? Yeah, that gets in my carpet on an almost daily basis. Or when she spills her milk or throws mac and cheese overboard…
You get the idea.
We vacuum (and when I say "we" I mean "Brian"), but in the 6-7 years we've lived in this house we've never steam cleaned the carpets. It grosses me out to think what is lurking in them especially with another baby on the way who will be crawling around, face planting and drooling right into who knows what. But, I don't want to deal with a big heavy carpet cleaner and renting seems too expensive. Plus, I've heard it takes for.ev.er. to dry. Still, I was willing to give the Hoover a shot. They are well known for quality vacuums….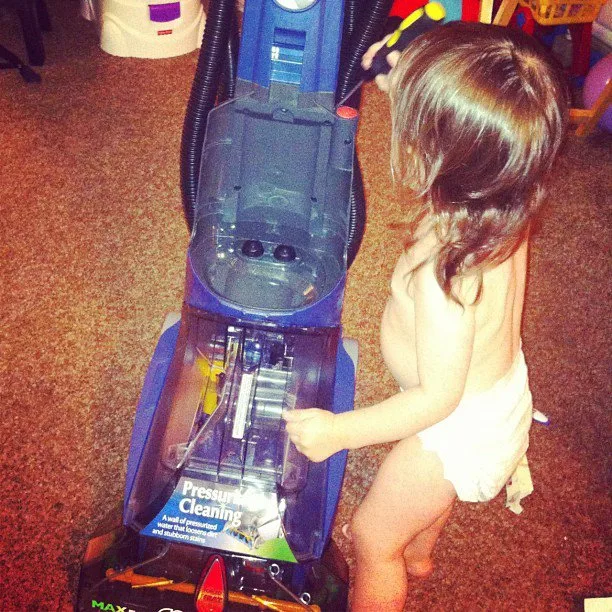 The Hoover MaxExtract60 was super easy to assemble out of the box. I mean look at Rissa putting it together all by herself! I just watched…
While it's heavier than a regular vacuum it seems easy enough to use and maneuver. I volunteered but hubby insisted on trying it out while I put my feet up. (Okay, maybe not entirely true, but he does have the vacuum chore!) The removable tanks make it simple to fill up as well as empty the dirty water.
We used it on the living room and hallway before the solution was gone. I wish the bottle was larger and there was an unscented solution. The smell is obviously a cleaner but was strong in my opinion. Like "Hey the carpets were just shampooed" sorta wet poodle like smell. (But a nice smelling poodle. Straight from the groomers.) Our carpets are dark brown (their true color) so it was hard to SEE the difference afterwards, but I could feel it. The carpet was much softer under bare feet!
The tank of dirty water and particles was disgusting to see but a relief to remove from my carpets. It wasn't too time consuming either which is a plus in my book. It seemed to dry relatively quickly. In under a couple hours, if that? Even when I walked on it (oops) or Rissa walked on it (double oops) it felt damp but not soaking wet. We did find the furniture attachment to be leaky, but I'm more interested in using it on the carpets than my furniture. Plus we have that mirco-suede stuff that repels liquid or doesn't let it soak in or something. I don't think that helped either.
When's the last time you deep cleaned your home's carpet?
Please note I received a sample of this product to facilitate my review, but my opinions are entirely my own. Thank you to Mom Central and Hoover for this campaign! I was not required to post on my blog about it, but I thought you'd be interested in hearing about our experience.