Soon I can hope to interview Rissa about some of the shows she watches and toys she plays with. Her vocabulary continues to grow by leaps and bounds to where we can have little conversations. Sure, she doesn't speak in complete sentences yet, but boy can she string together enough words to tell you a whole story about things she has seen or heard. Often she is half acting it out too, which makes it incredibly adorable.
One thing I've really noticed lately is how much more she actually pays attention to movies and shows. She's always seemed to have a certain level of enjoyment when watching them, but could never sit still. Now, she can actually sit still for longer stretches of time and later tell me about things she watched. The cutest thing though? She's starting to interact with her favorite shows!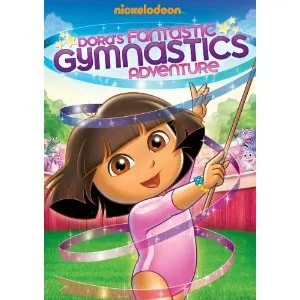 While watching Dora the Explorer: Dora's Fantastic Gymnastics Adventure, my daughter began to respond to the questions and would call out when she spotted Swiper. She likes to say "Swiper no swipping!" and then will giggle if I chant it with her. She really seemed to enjoy this particular DVD because of the gymnastics episode. With Rissa's tumbling class, she is showing more awareness and interest in gymnastics. And, with the Olympics on recently, I'm sure lots of little girls are more interested in gymnastics!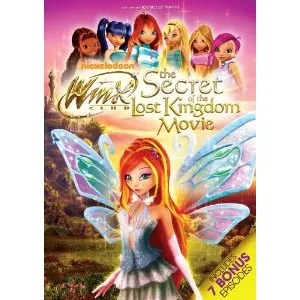 The other Nickelodeon DVD we watched recently was Winx Club: The Secret of the Lost Kingdom Movie. I know this DVD is aimed at older girls (probably 6 years+), so I wasn't sure what Rissa would think of it. She very clearly showed me that she was not interested by fidgeting, running around, and playing little attention to the screen. A few times she'd comment on what was going on, but overall she wasn't drawn in. She also seemed a tad frightened by some of the fight scenes – probably because those tended to be louder while battling the bad guys. In general, it has great messages about friendship and maybe my daughter will like it in a few years.
Episode information for these DVDs:
Dora the Explorer: Dora's Fantastic Gymnastics Adventure
Released on July 31, 2012
Dora's Fantastic Gymnastics Adventure
Dora and Boots are practicing for the Fantastic Gymnastics Show when Dora gets a special delivery – a beautiful rainbow ribbon. This means Dora gets to start the Big Gymnastics Show with her ribbon dance! But Swiper comes in and steals the ribbon soDora and Boots set out on an adventure to get the ribbon back in time for the show.
A Ribbon for Pinto
Pinto is really excited about the Big Horse Show and he'd like to win his very first blue prize ribbon. Dora, Boots, and Pinto are taking a train to the show, but the train breaks down and they worry they won't be able to make it!
Swiper's Favorite Things
Swiper is packing all of his favorite things for a sleepover at his Grandma's House — his pajama trunk, his favorite puppy book, and his very special funny bunny. Just as he is about to leave, a big wind gust comes in and blows everything away! Dora and Swiper journey to Crocodile Lake, through the Jumbled Trees, and race to Strawberry Hill to get Swiper's favorite things back.
Winx Club: The Secret of the Lost Kingdom Movie
Released on August 7, 2012, Bloom and her best friends Stella, Flora, Tecna, Musa and Aisha make up the Winx Club. Join them as they star in their first CGI full-length movie "The Secret of the Lost Kingdom" and seven bonus episodes from the Winx Club TV series. Powerful magic and strong friendships bring these six fashion-forward fairies together as all sorts of villains try to defeat them and the world.
_____
Disclosure: We received the above mentioned DVDs for review. No other compensation was received. Thoughts shared are honest and my daughter's enjoyment is entirely her own!