Our local grocery store had beef strips for stir fries on sale this week, which of course meant a stir fry with veggies and rice was on the menu. I have been making our stir fry sauce for a few years now, no more buying the little packages of mix for us anymore. This is so simple I promise you.
2 cups of broth – chicken, beef or vegetable
1/4 cup white vinegar
1/4 cup soy sauce
1/4 cup brown sugar
1 tbsp garlic powder
2 tbsp cornstarch
1 tsp ginger powder
Mix this together, in a jar with a lid and shake it, or as I do to make sure the cornstarch is completely mixed and throw it all into my blender. You can either use it all at once or refrigerate for a couple weeks.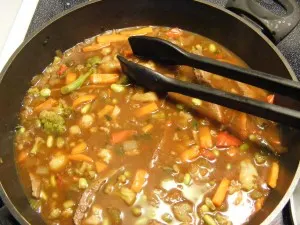 When you first add it, bring it to a boil, and simmer until it thickens, it could take 5-10 minutes.