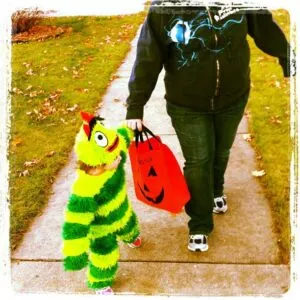 Being a Halloween baby, you might be surprised to know that this is Rissa's first year actually going trick or treating. Sure, I dressed her up as an adorable little pumpkin last year, but we didn't go out and get candy. This year though, she got all dressed up as her favorite Yo Gabba Gabba character (Brobee!!) and found out she could get candy from strangers on just this one day.

(Video)
What did your kids dress up as for Halloween?
Yay I'm going to be doing videos more frequently with the helpful prodding and vlogging prompts from Mama Kat each week.