Did you know that Walt Disney wanted to make a movie about Oz for years?
I previously shared why I enjoyed Oz the Great and Powerful after screening it in 3D. While some were very critical of the story line, acting, and visuals – I thought it was beautiful, well acted and cast, and the story engaging. Making a prequel to the well known Wizard of Oz movie was no easy feat. The two are constantly compared (often unfairly since they both are inspired and based upon the books). As we know, film adaption from books is never quite the same. Our attachments to the written stories can affect our opinions greatly.
I have yet to read the Oz collection by Baum, but I recently downloaded the 14 book collection ebook (Amazon link). Currently I'm trying to decide if I should start reading them on my own or wait a bit and read them with the kids.
Anyway, I am a huge fan of Bluray extra features and was excited to receive this movie for review. Usually I can count on only a handful of extras, of which I really enjoy one or two. This one? Wow, does this one deliver! I haven't finished watching all of them yet.
I do want to make a quick note that after seeing the film in 3D at the theater, then 2D at home, I really prefer the 3D version. Some scenes look awkward or cheesy in 2D but they worked well in 3D.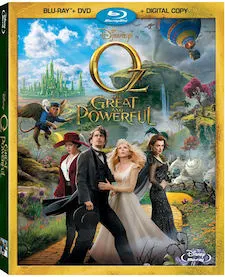 All right – now on to the extras!
The Magic of "Oz The Great and Powerful" (Second Screen Experience)

Bloopers

My Journey in Oz by James Franco – A personal story produced and directed by James Franco.
Mr. Elfman's Musical Concoctions – An interview with composer Danny Elfman unveils his inspiration in scoring "Oz The Great And Powerful."
China Girl and the Suspension of Disbelief – This feature uncloaks the several forms of movie magic employed to bring China Girl to life, from the initial artwork and character design, to the on-set puppeteering during filmmaking, and finally, through each stage of the visual-effects process; and includes an interview with Joey King, the voice of China Girl.
Before Your Very Eyes: From Kansas to Oz – Production designer Robert Stromberg takes viewers through the set design of the Land of Oz, from sketching his original ideas on a napkin, through to the final set pieces and the accompanying visual effects.
Mila's Metamorphosis – Lead makeup artist Howard Berger expands on one of the oldest, most tried-and-true forms of movie magic: makeup design and effects.
Walt Disney and the Road to Oz – It is well known that Walt Disney had a fascination with the Land of Oz since he was a child. See how that fascination grew into inspiration as he began planning for his own adaptation of the stories in the classic Baum books.
My favorites (so far) are Walt Disney and the Road to Oz and My Journey in Oz by James Franco. Both of these are lengthy features, but provide a lot of insight into the making of the movie. I really enjoyed how Franco interviewed other cast members and looking at how he worked with Braff. The sets use mostly green screens and it is amazing how they work within that.
I didn't know Walt's history with the story of Oz, but it was a movie he chased after for years, testing it out with the Mouseketeers. Things could have been quite different had he attempted the movie back then. Another studio got the rights first though. Took a long time, but Disney finally brought the story of the Wizard to us!
Wicked Witch Time Lapse
Watching how they transformed Mila is interesting too. She definitely looks more frightening than the Wicked Witch I grew up with.
Order your copy on Amazon (affiliate link) today!