We received the following DVDs for review.
Even though Rissa lives in a time where she can stream a lot of her favorites shows on demand, she likes DVDs. When a package arrives and I tell her it is for her – she gets excited and happily rips them open.
"Can I watch it, mama?" Her little fingers prying the case open. She's learned how to swap discs in the Xbox 360 in the playroom.
She covets those cases like they are books. Holding, staring, stacking, counting. On the shelf, off the shelf.
Littlest Pet Shop Sweetest Pets
We ended up watching The Littlest Pet Shop: Sweetest Pets (Amazon) episodes on DVD and on Netflix, but she didn't care. When I turn this show on, she really sits still and watches it for 1-2 episodes in a row. Don't you dare try to turn it off if she starts playing or coloring.
I think I need to start pre-screening every episode though, since she repeatedly asks me what's happening when one of the characters is upset. "I don't know" doesn't cut it since she thinks I am all knowing (Gosh, I wish that would last through her teen years). I try to use those moments to ask her what she thinks is happening or to identify their emotions. That sometimes works.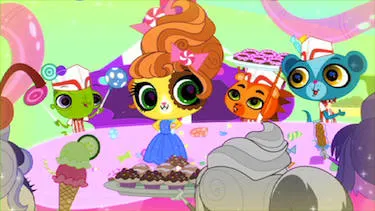 Our favorite episode from the 5 included in the Sweetest Pets compilation is Topped With Buttercream. A bakery moves in next door to the Littlest Pet Shop. The owners have a bunny who comes to the shop. Blythe becomes friends with the baker's daughter. The pets find a hole in the wall leading into the bakery. They end up getting locked in the kitchen where all the sugar is…

(Video)
Minnie's the Wizard of Dizz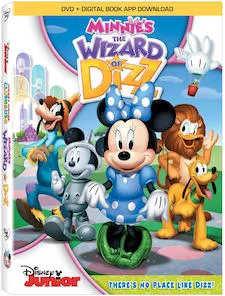 This month not only saw the release of Oz the Great and Powerful on Bluray and DVD, but Minnie also visited her own version of Oz.. er.. Dizz in Minnie's the Wizard of Dizz (Amazon)!
It all started with a party when a powerful wind whisked Minnie and Pluto away. The Good Witch Clarabell sent Minnie off to see the Wizard of Dizz about returning to the clubhouse. She follows the polka dot road, thwarting Wicked Witch Pete who wants her green shoes. It's the familiar Wizard of Oz story just Minnie-ized. Rissa enjoyed it as well as the other episodes included on this DVD. We've watched it a few times now!
(Video)