I received a free copy of Real American: A Memoir in exchange for an honest review. All opinions are my own.
Have you ever read a book that has moved you so much you can't help talking about it with anyone who will listen? Only a few pages in, REAL AMERICAN: A Memoir by Julie Lythcott-Haims made me feel this way. I kept setting the book down in order to tell my husband what I just read, which sparked additional discussions.
If I ran a book club, this would be next on the list.
Why You Should Read REAL AMERICAN: A Memoir
Julie Lythcott-Haims' book opens with one of the most common questions non-White people are asked. A loaded question that I rarely encounter: "Where are you from?"
From there, Julie ponders what it means to be American – a real American – as she takes you on a journey through her life experiences growing up as a biracial Black woman in the United States. Her writing style is engaging and keeps you wanting to know more as she leads you through her path of self-discovery and self-acceptance.
She pulls back the veil on her vulnerable thoughts. Life stories demonstrate how micro-aggressions and racism affected her self-esteem. The storytelling isn't linear, but flows in a way that makes sense as she dives deeper into certain areas such as her family history.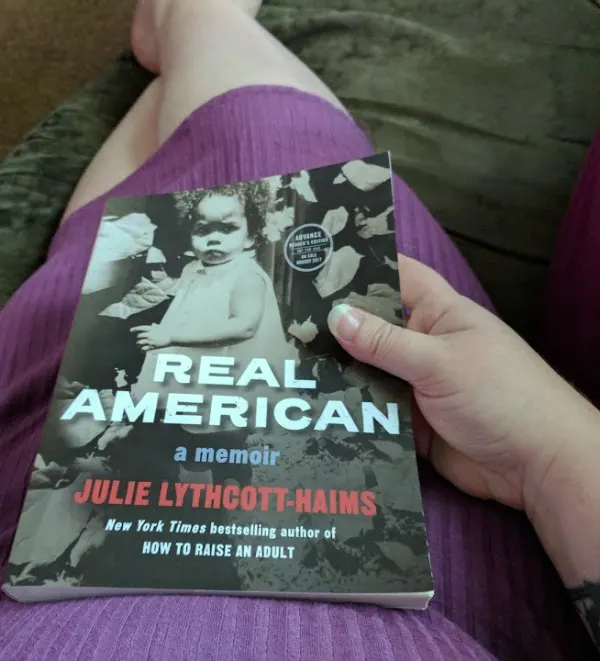 Her book is emotionally moving. Being a teenager is already hard, as is becoming a mother. I will never say I know what it is like to go through what she's gone through, but her stories helped me further learn about Black pain and experience. This book moved me to tears, made me feel angry, frustrated, and shocked. At times it made me feel uncomfortable – and it should.
But this book is not about me and my feelings. I felt anger, frustration, and sadness for her. For what she's been through. At times I set the book down in disbelief.
Did that just happen? Did they just say that? I suppose I shouldn't be surprised, yet… I was.
So why should you read Real American: A Memoir by Julie Lythcott-Haims? To open your mind and heart to the real effects racism has on our country. To self-reflect on how you perceive people who do not look like you. How you react to them. To recognize your part in perpetuating micro-aggressions and latent racism. To do better by promoting and supporting equality.
You should also read this book because it highlights the importance of having a community and loving yourself. Julie's transformation unfolds, bringing hope for positive change – especially to anyone struggling with self-loathing or low self-esteem.
I hope you will take the time to read REAL AMERICAN: A Memoir. It is a fairly quick read but I would not call it a light read. The subject is heavy and powerful. It's the kind of book I hate to like (because it's based on real pain), but I want others to read and discuss it too. It's perfect for anyone who wants or needs insight on racial inequality in the United States.
Start a discussion by sharing it with friends and family or in a book club.
I was selected for this opportunity as a member of CLEVER and the content and opinions expressed here are all my own.