We received the VTech Roll & Learn Activity Suitcase™ to review, which is also available on Amazon (referral link).
Rissa likes flying in planes. She told me this when we flew to Florida in August. Xander seems to like them too after going on three trips this year (a total of six flights!). On our last trip he wanted to look out the window during takeoff rather than nurse.
So while we are home, talk of airplanes and travel comes up. Rissa likes looking at a map of the U.S. and identifying the states I've flown to, talks about missing me and about going places. I'm glad neither of them are afraid of flying.
I didn't get on my first plane until I graduated from college and went with Brian and his family to Disney World (where he proposed). Good thing I went! I was scared though. I wasn't sure what to expect and traveling in general was nerve wracking.
Before every trip I take I get really nervous. My stomach flutters and knots like crazy. I try not to think about what could go wrong (admittedly I focus on things like delayed flights and lost luggage rather than crashes). My last three trips had me on edge about how Xander would handle it and the possibility for negative responses from fellow passengers. Thankfully I've never encountered someone wishing they were in a child-free zone instead of near me.
Now I'm feeling a bit more like a semi-experienced traveler and my kids should grow up with traveling being a normal part of life (even if not frequent). Of course my daughter engages in creative play at home based in part on her experiences in the real world. She'll pretend to be a waitress and chef by taking my order and whipping up a bear head cake or eel sandwich in her kitchen. She pretends to be a doctor to take care of her sick friends.
She's even been my dentist… and tooth fairy (who apparently steals my teeth to plant in the ground).
And Xander follows along, trying to figure out how to play too. (He's my pretend food taste tester).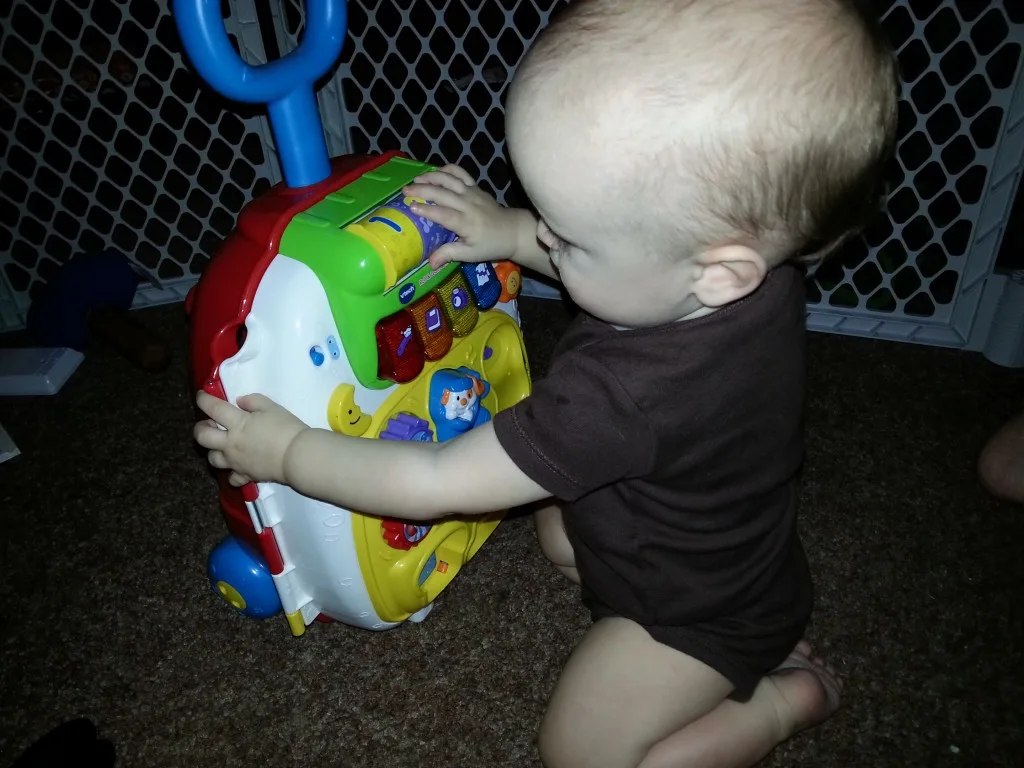 Now they can also pretend they are pilots or flight attendents or TSA workers. Mostly they imagine they are going on vacation. The VTech Roll & Learn Activity Suitcase allows them to have fun packing a few toys, pulling it around and pressing all the buttons. Xander loves the music (I often distract him away from off limit areas by touching it). Rissa likes to switch between languages and will repeat the basic phrases it says to her. Xander keeps trying to use it like a walker but it's not weighted to support him.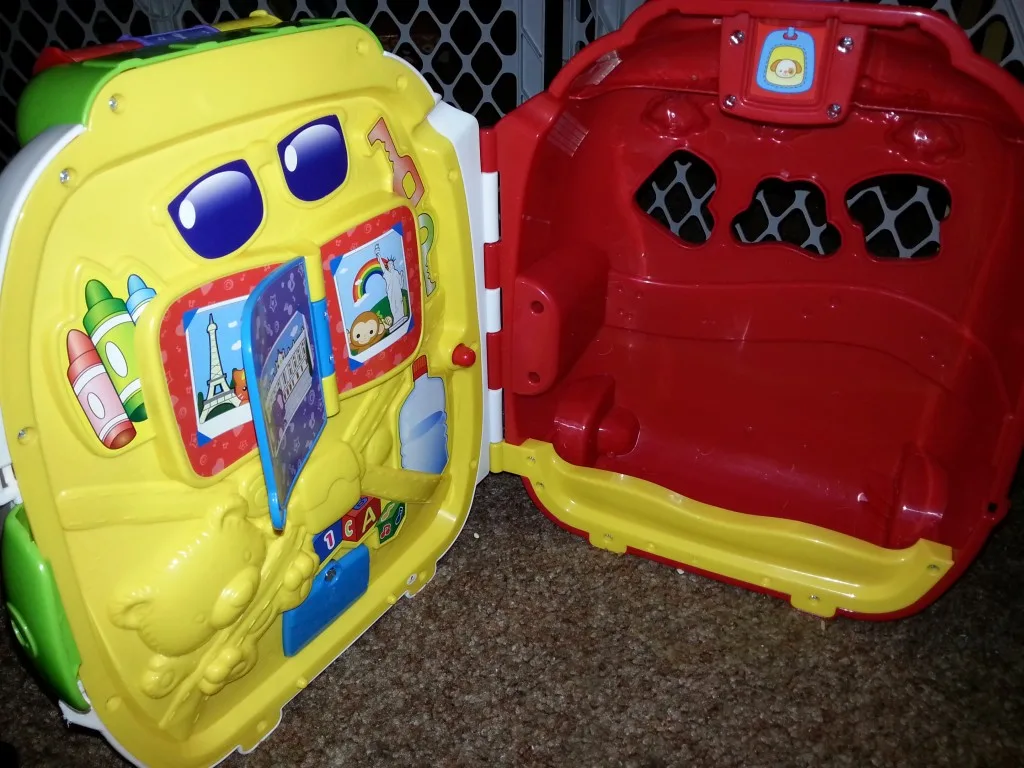 There are a few shapes that go in it like a shape sorter but we've lost those already. The detachable phone is floating around the house somewhere too. Not a lot fits inside, but Rissa often sticks a couple of her Yo Gabba Gabba friends inside. With all the buttons, lights, sounds, etc on the outside it doesn't look much like a regular suitcase. The kids enjoy playing with it though and that's all that matters to me.
Now if you'll excuse me, I think I'm being flagged for a (toy) search.