World Prematurity Day was November 17th, a day to help raise preemie awareness to everyone, especially expectant mothers. It's very important because 13 million babies are born each year and prematurity is the leading cause of neonatal death. That's scary and mostly due to new parents not understanding the delicate health needs of their preemies. Although that day has passed, it is still important to talk about the risks of premature births and the danger RSV can pose to newborns in general.
A recent survey on prematurity awareness found that 3 in 10 mothers of preemies weren't aware of the possibility of prematurity until they had their first child.
I was aware of the possibility of premature babies prior to being pregnant with my daughter, but I didn't know much about it. My nephew was born premature and I remember visiting him in the NICU (neonatal intensive care unit) and the request to always wash my hands before touching or handling him, even after he came home. While I was pregnant I did more reading and educated myself a bit more about prematurity, which is when a baby is born before 37 weeks of gestation. One thing I learned (while pregnant during a very hot and humid summer) was that dehydration can play a role in premature birth.
Most importantly, I learned that a baby born too early has their development interrupted. Their immune systems and lungs aren't fully developed, making them more susceptible to illness than a full term baby. I already knew about newborn etiquette and cautions about taking a full term baby out among crowds of people within the first month or so of life, but they become even more important to heed when caring for a preemie.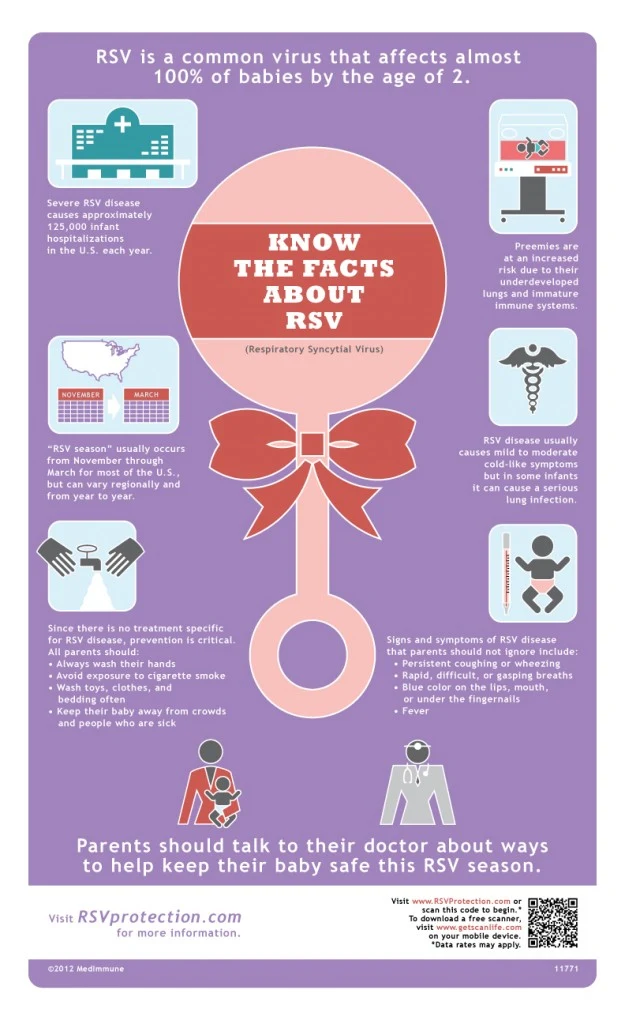 Here are some facts and tips everyone should know about RSV:
RSV Quick Facts
RSV is the leading cause of infant hospitalization, and severe RSV disease causes up to 10 times as many infant deaths each year as the flu.
RSV is most prevalent during the winter months. The CDC has defined the "RSV season" as beginning in November and lasting through March for most parts of North America.
In addition to prematurity, common risk factors include low birth weight, certain lung or heart diseases, a family history of asthma and frequent contact with other children.
Prevention is Key
RSV is very contagious and can be spread easily through touching, sneezing and coughing. Since there's no
treatment for RSV, parents should take the following preventive steps to help protect their child:
Wash hands, toys, bedding, and play areas frequently
Ensure you, your family, and any visitors in your home wash their hands or use hand sanitizer
Avoid large crowds and people who are or have been sick
Never let anyone smoke near your baby
Speak with your child's doctor if he or she may be at high risk for RSV, as a preventive therapy may be available
Know the Symptoms
Contact your child's pediatrician immediately if your child exhibits one or more of the following:
Severe coughing, wheezing or rapid gasping breaths
Blue color on the lips, mouth, or under the fingernails
High fever and extreme fatigue
Learn more at RSVProtection.com
I've surpassed the 37 week mark with this pregnancy, so I know my son will be considered full term when he is born. However, I'm still concerned about him being born during the holiday season and exposed to illness, such as RSV. Just about all kids get RSV by the time they are 2 years old, but it's not something I want to expose him to when he's just a month old.
During the holidays it is very difficult not to take a newborn out into crowds between shopping and family gatherings. At large parties it is harder to ensure everyone is not sick and has washed their hands before handling the baby. And you know they all will want to hover over him, touch him, kiss him, and pass him around to "give mama a break." So if you attend a party with me this Christmas and I'm huddled in the corner not letting anyone touch my baby, I am not just being paranoid. I am actually taking a proactive preventative approach to keeping my baby healthy and safe!
If you know a new or expectant parent, please share this information with them!
_______
Disclosure: I wrote this review while participating in a campaign for Mom Central Consulting on behalf of MedImmune and I received a promotional item to thank me for my participation.