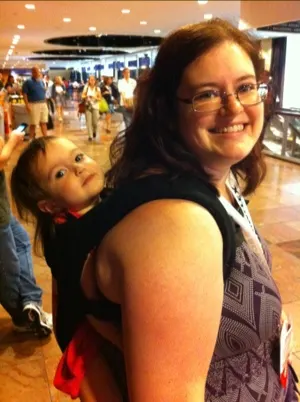 Well, I survived BlogHer12 while pregnant! I heard from several people that they didn't know how I could do it, but hey…there were mamas even farther along than me there! It was a lot of walking and standing and lots of "no thank yous" to offers of wine, champagne and various snacks. Otherwise, I just knew I would be in my pajamas around 10pm each night!
It was hard to stick to my gestational diabetes diet though. I mean, how do you calculate the carb count of street vendor food? I often guessed and know my decisions weren't always the healthiest but I was limited by time and money. And testing? Almost impossible with such a busy schedule. I started feeling guilty, but reminded myself that it was a short period of time that I wasn't as on top of things.
And how can I be expected to eat properly when delayed and stuck in an airport for 5 hours? Ugh.
Oh crap, I just realized as I write this that I forgot to test …an hour or so ago. (sigh) Mom and pregnancy brain together makes me too forgetful! (and I even set a timer…I turned it off and um, got distracted by Rissa – yes, I'm blaming her – and never went to test)
My belly continues to grow and made wearing Rissa on my back a little interesting, but it worked! This kiddo has been kicking up a storm too.
Did you do anything or go anywhere during your pregnancy that surprised people?