This review was made possible by Double Duty Divas and Comfort & Harmony. I was provided the featured product free of charge to facilitate my review, but all opinions are 100% mine.
Before becoming a mom, I thought I knew what baby gear I needed to have for my kids. Then I became overwhelmed by creating a baby registry. One item we got for our first baby was a swing. Man, I agonized over the choices. I invested hours into reading reviews and deciding which one to get.
$150 and half the living room later, it barely was used. Not all babies are the same – my son likes being in a swing for short periods of time. That's enough for me to eat a meal with both hands!
Unfortunately, with all the other stuff we've accumulated, we have NO ROOM for our full sized swing upstairs. Instead it sits in storage in the basement. Ouch.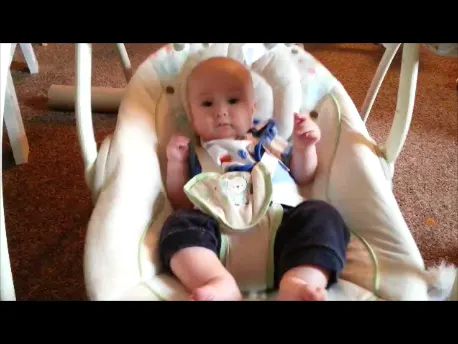 I wish I would have gone with a portable baby swing like this Comfort & Harmony Swing in Sandstone Fashion one we received to review. Hindsight is 20/20 and all that, but at least I can help you save some space from the get-go!
You can see it in action in my video here:
That's my baby boy who is now weighing in at 14 pounds. It swings fine for us, though I can't seem to get the recline position to change. When I fold it up the seat doesn't stay folded unless it is laying down and the cover slips off. But, it is easy to stick behind the couch, under the bed, in the closet or in the trunk of the car. It was nice being able to take it along on a road trip to gramma and grampa's house!
It takes 4 C batteries and doesn't have a plug so you may or may not burn through batteries depending on how often you use it. There are several swing speeds, a swing timer, a 5 point harness, and a buckle cover. The toy bar can be removed or tilted differently. There isn't any choice in the music. The motor is relatively quiet. There are only 2 volume levels.
Overall I love that it is low to the ground, except when my daughter decides to be overly helpful. It takes up less space in the living room when in use (unlike our full sized swing) plus I can easily move it to a new area of the house. A baby should not be left unattended in a swing, but I know it happens when you can't easily move baby and gear around.
This swing is only available online at Target.com. Currently it retails for around $60 which is a more affordable price. Please note this is best for babies up to 6 months old.
What do you think about portable baby gear?
Connect with our sponsor!
Comfort & Harmony Facebook: www.facebook.com/comfortandharmony
Comfort & Harmony Twitter: https://twitter.com/ComfortHarmony