Sibling Love
Things are starting to get more fun now that Mr. X is 4 months old. He's way more alert, giggles, babbles, and tries to put everything into his mouth. I think he is going to give his big sis a run for her money in the loud department. He sure can be noisy! Watching the two of them together is great. The jealousy issues have calmed way down and their love for each other is obvious.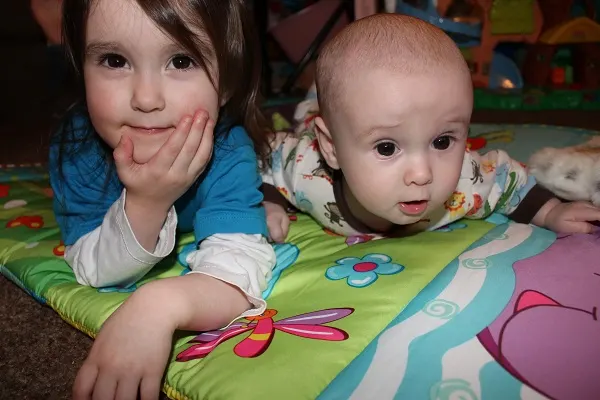 Rissa likes to hug and kiss her baby brother (almost too much sometimes!) and help bring him toys. She can't wait until he's big enough to play with her (so she says now) and eat food. She likes to tell me that "Xander will grow up" when I reminder her he's too little for something right now.
When she comes close to Xander, he usually opens his mouth to try and eat her or giggles. He is very entertained by her – thank goodness because that really helps me out most days.
4 Month Well Baby Check Up
Doctor confirmed he's growing fine and hitting appropriate milestones. He's not rolling all the way over yet, just to his side, but he wants to sit up and be part of everything. He also received immunizations.
I had a moment of concern though (I swear he has to scare me at each appointment). Last appointment we had to get his hips checked. This time she thought she detected a heart murmur. She listened for quite awhile and said she could hear a slight murmur, but wasn't too concerned about it being a serious problem. Since he's growing and developing well, there was no indication of a heart problem. Just to be on the safe side they did a pulse ox screening and the readings were normal. If they would have been low, we would have been referred to a cardiologist. I'm thankful that it isn't an issue, but they will keep an eye (ear?) on it.
Sibling Comparison – Looks
Now, I know every child develops and grows on their own timetable, but I do find their similarities thus far to be interesting. Their rate of growth is similar and they still look a lot alike – so much so that many of you see it too (so I know it's not just me). I had to dig out some pictures of Rissa when she was 4 months old and see…


The quality of Rissa's photos was pretty bad since they were taken with my oldoldold 3G iPhone. I used PicMonkey to spruce them up a bit. Xander's were taken with our DSLR except the right one, that was taken with my Samsung Galaxy SIII and then I played around with PicMonkey effects.
Sibling Comparison – Growth
At X's 4 month well baby check up he weighed in at 14 pounds 1 ounce and 26 inches long. He's 20th percentile for weight; 85th for height.
At Rissa's 4 month check up she measured in at 12lbs 5oz, 25 inches long. She was in the 30th percentile for weight; 85th for height.
Comparing both of their measurements at 2 months and 4 months, they both gained about 2 pounds and 2 inches. Well Rissa's weight was more like 1.5lbs, but very similar growth patterns for them overall. He seems more solid and chunky to us than Rissa ever did. Amazing what a difference 2 more pounds can make on a baby of the same age and height!
What kind of patterns did your kids have, if any? What about you and your siblings?