My daughter thinks it is great fun when we have smoothies. She loves drinking out of a straw and she knows it will taste more fun than water or milk. I wasn't able to have many smoothies while pregnant since fruit in the morning made my blood sugar high (gestational diabetes).
But now I can have them again! Yay!
Smoothies are a great way to get your fruit intake in, they're super easy and quick for breakfast, and yummy! They are pretty nutritious for the most part, though it is possible to make them with too much fat, sugar, and calories.
So after several months off from smoothie makin' I decided to make this baby this morning….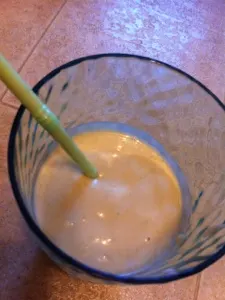 Peanut Butter Banana Avocado Smoothie
Ingredients:
1 cup of milk (I use 1%)
1/3 cup of vanilla yogurt (I use Dannon Oikos Greek Yogurt)
1 Banana
1 Avocado
1 Tbs peanut butter (I use creamy Skippy)
Directions:
1. Slice up the banana and add to the blender.
2. Open up the avocado, take out the pit and scoop the good stuff into the blender.
3. Add the rest of the ingredients and blend until smooth.
4. Pour into glasses, add fun colorful straws, and drink!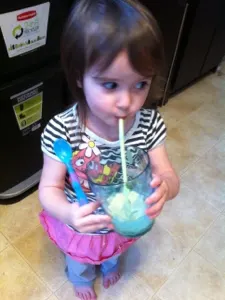 It's Aerissa approved!