I'm not the best at trivia (probably the time pressure), but I do enjoy learning about movie facts. It can be easy to forget three a whole life and story that happens behind the scenes before we see the finished product. I hope you enjoy learning these secret facts and numbers provided to us by Disney!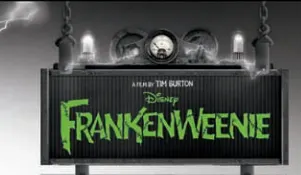 Fun Frankenweenie Movie Facts:
SECRET #1: THE ANIMATORS VIEWED CLASSIC MONSTER MOVIES FOR RESEARCH.
"We looked at a lot of old black and white horrors to research Frankenweenie," admits Allison Abbate. "We looked at old Frankenstein movies, especially The House Of Frankenstein and the fun monster-mash up movies. Some of the characters are inspired by various monster movies from the past. The invisible fish is obviously inspired by The Invisible Man and the Mummy Hamster is inspired by old mummy movies. It was a lot of fun to watch them again for inspiration."
SECRET #2: AN ALLEN KEY IS USED TO CHANGE THE EXPRESSION ON THE PUPPETS' FACES!
If you want to change the expression on a puppet's face, you use an Allen key in the puppet's ear," admits Allison Abbate. "There is a system of pulleys inside each puppet's head and you twist the Allen key to make it smile or frown. Mr. Rzykruski is a little different. He has replacement mouths when he speaks. The bottom half of his face comes off from the nose downwards!"
SECRET #3: THE FILMMAKERS CREATED AN EXCLUSIVE SHORT FOR THE BLU-RAY RELEASE!
"We love the idea of creating fun extras for the Blu-ray release, which is why we came up with an extra short for the Frankenweenie Blu-ray," reveals Allison Abbate. "The short film sees Victor and a dead Sparky looking at a movie they made prior to the accident. It's a really sweet short film of them hanging out together."
SECRET #4: FRANKENWEENIE IS NOT THE FIRST 3D BLACK AND WHITE MOVIE!
"Is this the first 3D movie in black and white?" ponders Tim Burton. "Ever in the history of movies? No, because they released The Creature From The Black Lagoon in black and white 3D. There were a few black and white movies in the 50s that were turned into 3D, but I think Frankenweenie looks really beautiful in this format. It really helps to create a feeling and an emotion."
SECRET #5: TIM BURTON INVITED HIS HIGH SCHOOL ART TEACHER TO THE MOVIE'S PREMIERE IN LOS ANGELES!
"Some teachers really inspire you and make a huge difference in your life," admits actress Winona Ryder, who voices Elsa van Helsing in the movie. "They stay with you forever and that's one of the messages of the movie. I think that's why Tim Burton invited his high school teacher to the premiere in Los Angeles. He's 82 years old and I couldn't wait to meet him."
SECRET #6: THE NAMES IN THE ANIMAL CEMETERY CAME FROM THE CREW'S OLD PETS!
"When we were designing the pet cemetery, we asked everyone in the crew for the names of their pets that had passed away," reveals Allison Abbate. "We incorporated the names into the tombstones, and then we would try to figure out who each pet belonged to. You'd hear people walk around saying, 'Wait a minute… Were you Bob Fishy's owner?' The 'Goodbye Kitty' joke was Tim's idea, but it's also interesting that Sparky's tombstone was added to the pet cemetery outside the Haunted Mansion at Disneyland during Halloween. That was really sweet to see."
SECRET #7: THE FILM WAS ACTUALLY SHOT IN COLOR!
"Tim Burton wanted Frankenweenie to be an homage to the monster movies of the 60s, so black and white was the perfect choice," explains executive producer, Don Hahn. "However, the movie was all shot in in color. We catch each frame in color and then we change it to black and white immediately on our computer screens. In this digital age, it's an extra step to get it in black and white, which is funny. The chips in the cameras naturally capture everything in color – but it's very easy to change them once we've got the shot."
SECRET #8: THERE WAS A PUPPET HOSPITAL FOR ON-SET EMERGENCIES!
"The puppets are very delicate," admits Allison Abbate. "The hands are very fragile and the fingers can only bend so many times before they need to be replaced. That's why we set up a puppet hospital on set. The puppets get touched hundreds of thousands of times over the course of a few weeks, so parts have to be replaced every now and then. The puppet hospital was like a normal hospital in many ways because you'd see people rushing in screaming, 'Broken neck!' The hospital saved the day on more than a few occasions."
SECRET #9: FOIL IS PLACED UNDERNEATH THE FEMALE PUPPETS' DRESSES IN ORDER TO KEEP THEIR SHAPE!
"Each of the puppet's outfits is made specifically for them," explains Allison Abbate. "A lot of the dresses on the women are lined in foil so that when the animators move them around, you can move the fabric to a set position. It was really difficult to source the material for the clothing. It had to be to a specific scale, so it wasn't an easy task at all!"
SECRET #10: SPARKY IS BASED ON TIM BURTON'S CHILDHOOD PET!
"When I was little, I had a dog named Pepe," reveals Tim Burton. "Sparky is definitely inspired by him. Pepe was a mutt and he was very dear to me. He had a disease, which meant he wasn't supposed to live very long, but he lived much longer than expected. I'll never forget Pepe."
SECRET #11: THE PUPPETS' TEARS ARE MADE FROM GLYCERINE!
"Stop-motion animation is very time consuming because you have to move the puppet 24 frames for each second of film," reveals Allison Abbate. "Even the pupils of the puppets' eyes are moved! The animators used toothpicks to move them gently. The tears on the puppets are often made from a hard glycerin soap. It looks like the tears are wet, but they're not."
25
"Frankenweenie is based on a short live action film that director Tim Burton made more than 25 years ago," reveals Frankenweenie producer, Allison Abbate. "It's an homage to the classic horror movies that inspired Tim when he was a child."
80
"The process of stop-motion animation hasn't changed too much in the last 80 years," adds Allison Abbate. "Animators still need to manipulate the puppets one frame at a time and literally reanimate the characters right before your eyes!"
24
There are 24 frames per second in a stop-motion movie like Frankenweenie. This means that the animator must stop and position the puppet 24 times in order to create one second of filmed action!
5
"Stop-motion is a very time consuming process," admits Frankenweenie executive producer, Don Hahn. "In a good week, each animator produced about five seconds of finished film!"
10
The main character in Frankenweenie is a 10-year-old boy named Victor. He's clever and industrious – and he's very inspired by science.
35
At any given time there were up to 35 sets being used on a sound stage at 3 Mills Studios in East London. The film was produced near London's Olympic Stadium. You could spot the studio in many of the helicopter shots at the Olympics.
500
"Around 500 people worked on the movie," explains Allison Abbate. That's everyone from voice artists to animators and producers to set builders!
1970
"The action of the movie is set in a town called New Holland in the 1970s," reveals Allison Abbate. "It's a suburban community where nothing crazy usually happens – until now!"
200
More than 200 puppets were created for Frankenweenie!
3
The puppets in the movie are all various sizes, but the largest used in the film was the Turtle Monster which stood at about 3-feet tall.
12
"As soon as we had a completed script, it took one year – or 12 months – to prep the stages and create the puppets," says Allison Abbate.
18
There were 18 Victor puppets created for the movie, as well as 15 Sparky puppets. Why so many? Well, each of the animators worked independently on different scenes – and backups were also needed in case a puppet required repair!
7
"We had about seven recording sessions with Charlie Tahan, who provides the voice of Victor," reveals Allison Abbate. "Victor has the most lines in the movie, so he had more sessions than anyone else."
120
"The average voice session lasted two hours – or 120 minutes," continues Allison Abbate. "In the beginning, the sessions were longer – but in the end, they were often much shorter than that."
4
The talented voice cast includes four actors who worked with Tim Burton on previous movies: Winona Ryder (Beetlejuice, Edward Scissorhands), Catherine O'Hara (Beetlejuice, The Nightmare Before Christmas), Martin Short (Mars Attacks) and Martin Landau (Ed Wood, Sleepy Hollow).
27
"In total, there were about 27 animators who worked on the movie," reveals Allison Abbate. "That includes assistants and animators who came in for short periods of time."
5
There were five sets of Mr. and Mrs. Frankenstein puppets created for the movie!
300
Sparky was the most complicated puppet in Frankenweenie. There are more than 300 joints in his body!