I've seen cheese balls, I've heard of them… but I'd never made one nor eaten one until recently. I suddenly decided I wanted to make one! (Bizarre, I know.) But, after browsing a few Tastefully Simple recipes and thinking about what I was hungry for, I went for it. It looked easy enough and I like quick and easy! And, I shaped it like a football!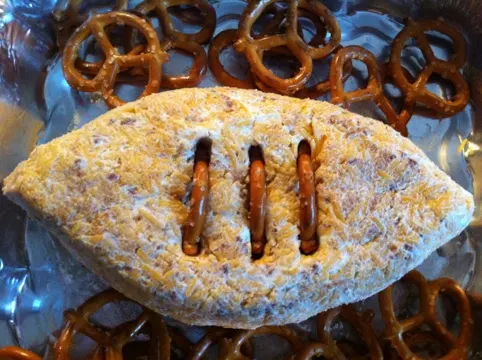 Ingredients:
8oz cream cheese
4.5 Tbs bacon pieces
2 tsp Worcestershire sauce
8oz shredded cheese
I used Bacon Bacon from Tastefully Simple and mild cheddar cheese. You could use real crumbled bacon (I think?) or Bacon Bits.
Directions:
1. Soften cream cheese.
2. Mix everything together in a bowl. I suggest using your hands (gloved or not) because a spoon won't mix as well.
3. Shape it how you want: a ball or a log. (For the football I made it oval and pressed 3 upside down pretzels into it.)
4. Chill in the fridge.
5. Serve with pretzels, crackers, or beer bread.
I'm not sure how spreadable it should be, but it tastes yummy in chunks on top of crackers!