Easter baskets don't have to be filled with just candy! How about a couple Easter movies, kid friendly music, and coloring? I received the opportunity to review VeggieTales: 'Twas the Night Before Easter and Here Comes Peter Cottontail on DVD. I also received a VeggieTales CD, Hosanna!
It's Easter time in Crisper County and cable news reporter Marlee Meade (Petunia Rhubarb) is hunting for a way to help others. On a tip that the old town theater will be shut down, Marlee cooks up a plan to save the stage and make a difference through the power of musical theater. With a cast of costume-clad townies, massive props and a 20-foot robot rabbit – "Up With Bunnies" is hatched! There's only one thing missing – the star of the show! When news spreads that singing sensation Cassie Cassava (Melinda Doolittle) is arriving to perform in her hometown church's Easter service, Marlee gets worried. Concerned about the competition, she schemes to steal the starlet for her own pageant! But when things go haywire, will it be curtains for Marlee's dreams – or will she discover the true meaning of Easter and what helping others is really all about? (SRP $14.93)
I hadn't really watched VeggieTales before, although I'd heard of them and knew a little about them. I popped this in while trying to get some work done (I need to rewatch just for me!) and was impressed with how it occupied Rissa. I think she liked the bright colors and singing. I sing to her a lot and she loves it…
I'm comfortable in now knowing that VeggieTales are appropriate for children to watch, unlike some questionable children's characters. This movie was fun to watch, the songs are catchy, there are valuable lessons, and it doesn't forget the true meaning of Easter.
I took 'Twas the Night Before Easter over to my nephews. Their mom wasn't too familiar with VeggieTales either. The older one was pretty excited and said he got to watch VeggieTales before "in Jesus school." (Kids are so cute!) I assured my sister-in-law that the movie talked about the meaning of Easter and was definitely family friendly for both kids. I didn't get to stay while they watched it though, but the kids were happy I brought it over for them. (I tried to plan it so I could watch it with them but that didn't end up working out.)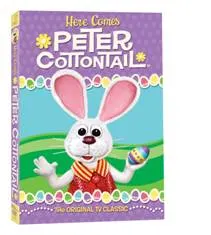 Peter Cottontail wants to be the #1 Chief Easter Bunny and everyone in April Valley agrees…except for his archrival, evil Irontail. Hop along with Peter and his friends as they race through time celebrating all of your favorite holidays to deliver the most eggs…and save Easter for children everywhere! (SRP $9.98)
Oh, what a classic! It was nice seeing it available on DVD. Sure, the look isn't all fancy like the productions today, but it's still cute to watch. Rissa lost interest about half way through, but she's just a baby. This is one of those "let's watch it every year" kind of movies. Seeing it again as an adult (and as a mom) I can now recognize the lessons in it like responsibility and hard work. Peter should not have been partying so late!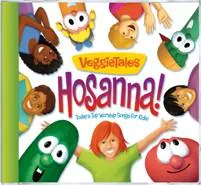 The Hosanna! CD includes ten all new easy-to-sing worship favorites made popular by some of today's top worship artists – sung by beloved VeggieTales characters and kids just for kids! Amy Grant sings the title track, "Hosanna," and lead vocalist Mark Hall of Casting Crowns, named Billboard's No. 1 Top-selling Christian Band of 2010, lends his voice on the group's No. 1 radio hit, "Who Am I." Also included are Veggie arrangements of Israel Houghton's upbeat "Just Wanna Say," Chris Tomlin's "Amazing Grace (My Chains are Gone,") Hillsong LIVE's "Mighty To Save" and Brenton Brown's "Everlasting God," to name a few. (SRP $9.99)

VeggieTales: Hosanna! Today's Top Worship Songs for Kids! Track Listing

Mighty To Save
Amazing Grace (My Chains are Gone)
Hosanna
Everlasting God
Your Grace is Enough
Just Wanna Say
Your Name
Who Am I
Perfect Love
Lord You Are Good
I shouldn't have been surprised at how catchy the songs on Hosanna! were after watching the VeggieTales movie. I don't typically listen to children's music (I'm sure that will be changing soon enough), but I was able to enjoy these. Again, Rissa loves singing! I also dropped this off for my nephews to enjoy.
Free Coloring Pages!
These Peter Cottontail coloring pages have been provided for me to share with you! You can right click on them to save and print or open in a new window to "print screen." If you would like these emailed to you instead, please fill out our contact form and I'll get them to you as soon as I can.
Any of these would make a great Easter gift and/or activity – I know I enjoyed them! I'll be taking these coloring pages with when we all get together this Sunday!
___
** FTC Disclosure: I received the product(s) mentioned above free of charge by the company or PR representative in order to conduct an honest review. I was not compensated in any other way for this post. The thoughts, experiences, and opinions included are entirely my own and may differ from that of others. I am not liable for any issues you may incur from use of said product(s). See full disclosure information. If you have any questions you can contact me or leave a comment.