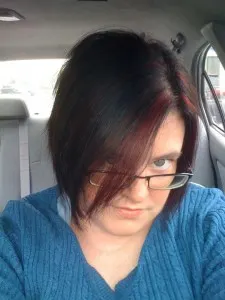 Before I had Rissa, I indulged in salon services. I went there about every 6 weeks, alternating a trim with cut and color. I loved going there.
See, I find quality places that aren't convenient or close to home. Well, ok, so the place I was going was near where I lived while in college. It was also near where we got married, so naturally I booked them for our wedding party hair!
We were married almost 5 years ago. All that time, I continued to go to this particular salon to see my stylist… which is 45 minutes from my house.
Yeah, see what I mean? Not convenient. Regardless, I even booked some massages there on occasion.
Well, the last time I went there was early October, before Rissa arrived. Mmhmm, over 5 months ago. Eek!
I stopped going to save money due to being on maternity leave and then having my job eliminated… it wasn't cheap to go. Cut and color appointments were easily $200.
But now… well, now I'm suffering as my gray is growing out. And yes, it is BAD. I've (sadly) been going gray since I was about 19 years old. I really hope I don't pass that on to Rissa.
When I say it's growing out, I'm not talking about a few strands here and there. I'm talking about almost my entire crown is gray if I don't get it colored. It's THAT bad.
I don't want to spend the money, but I don't want to do the home kits either. I'm hoping the social deal I got the other day is "on" because it's half off. I just can't let it grow out all the way. I'm not ready to be gray all over, I'm only 30!