As a long time user of Vicks DayQuil and NyQuil products, I'm happy to partner with them on this sponsored post.
In October 2010, I officially started the most complex job I've ever had. It's super rewarding, yet crazy stressful. The short term benefits kind of suck, but the long term benefits are pretty awesome. Thing is, the pay is in smiles and kisses and there's very little time off.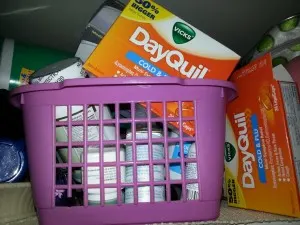 It's the one job that it is nearly impossible to call in sick. So, I have to do my best to prevent getting sick and utilize cold medicine to help me power through to recovery. You know what I'm talking about! (Unless you haven't been sick while being a mom… then you are super lucky!)
Mom's Cold and Flu Prevention
None of these tips are guaranteed to ward off sickness, but they should help. Thankfully I haven't been sick too often since becoming a mom – only a few head/chest colds.
Wash hands frequently

Wash kid hands frequently

Use hand sanitizer

Take vitamins, including Vitamin C

Cough/sneeze into elbow (not hands!)

Keep everyone else in the family healthy (otherwise

someone

is bound to pass it on)

Get plenty of rest (okay, so I'm not very good at that one)
Mom's Cold and Flu Treatment
Let's say you've done all these things but you still get sick. How do you take care of yourself AND take care of everyone else?
Eat chicken noodle soup

Suck on cough drops

Take vitamin supplements

Nap when you are able

Convince spouse to take over meals

Engage children in quiet(er) activities (coloring, tv, movies, reading, puzzles, etc)

Take DayQuil during the day and NyQuil at night
For years I've relied on Vicks products to help me out when I'm sick. The two products that always have a home in my medicine cabinet: DayQuil and NyQuil. I know I can count on DayQuil to keep my symptoms at bay without slowing me down too much. It's non-drowsy, which helps make sure you're not slacking on supervising my toddler. But, once nighttime rolls around, I know NyQuil will help me get much needed rest. There is nothing worse than waking up constantly to cough and blow your nose. Yech. Since I do sleep pretty soundly when taking it, I won't share the bed with the kids on those nights.
I'm not a medical professional nor am I giving out medical advice. Please keep the following in mind:
Remember before trying any new medication make sure to check with your doctor & follow the proper recommended course of treatment.
DayQuil & Nyquil is not recommended for children younger than 12. Please be sure to consult your physician before giving DayQuil & NyQuil to children.
When using DayQuil/NyQuil, be sure to follow the usage guidelines for warnings and dosage directions or visit http://www.vicks.com for more information.
How do you keep yourself going with limited sick time off?
______
Disclosure: I participated in a campaign on behalf of Mom Central Consulting for Vicks DayQuil & NyQuil. I received product samples and a promotional item as a thank you for participating.