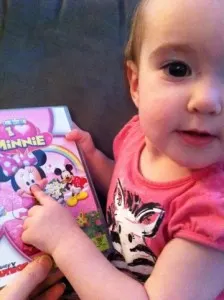 Love isn't just about romance, it's also about friendship! And the Mickey Mouse Clubhouse gang has come together for Minnie's birthday! This new DVD came out on February 7th and features five episodes about valuable lessons in friendship, teamwork, sharing, and problem solving. There is also a fun "You're Invited to Minnie's Birthday" bonus feature as well!
Here are the five episodes:
Minnie & Daisy's Flower Shower (All-New, Never-Before-Seen) – The botanical highlight of the year is in trouble, unless Minnie and Daisy can get their flowers to bloom! Together, they board the glove balloon to help coax the clouds to sprinkle much needed rain.
Daisy's Dance -Clap your hands and tap your feet! Join Daisy, as she gets ready for one of the most important events of her life––performing in the big talent show!
Daisy's Pet Project – The Pet Parade is almost here and Daisy needs to find the perfect animal for which she can love and care. But it's not as easy as she thinks and soon she has three new friends: an elephant named Bubbles, a giraffe called Longfellow and a bunny called Captain Jumps-a-lot!
Minnie's Rainbow – After a brightly colored rainbow appears over the clubhouse, Minnie searches for the pot of gold that's supposed to be at its end. Along the way, she meets a leprechaun and discovers that not all treasure turns out to be as she expected!
Minnie's Birthday – Today is Minnie's birthday, but the Mickey Mouse Clubhouse friends need to set up her birthday party.
To help celebrate Minnie's birthday, we had a little party of our own in her honor!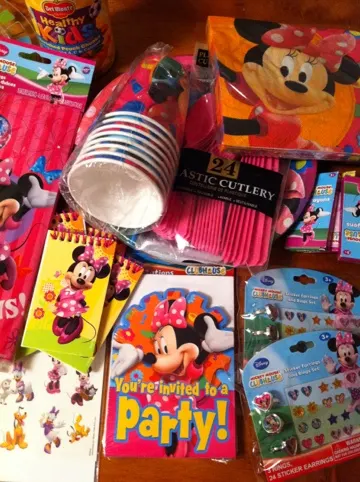 We had Minnie plates, napkins, cups, party favors and treat bags! For our little playdate with four of Rissa's friends, I tried to stick with safer snack options: mini multigrain crackers, string cheese, diced peaches, and bananas for the kids (hey, it was a mid-morning party!)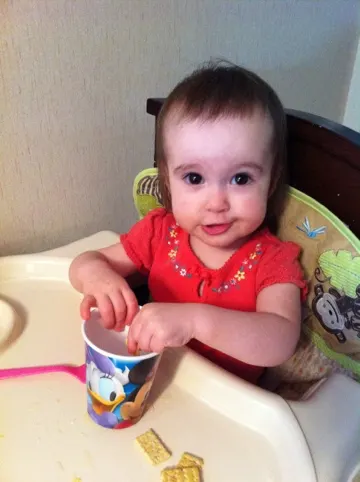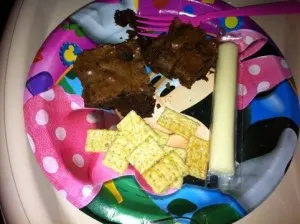 … and brownies for the moms!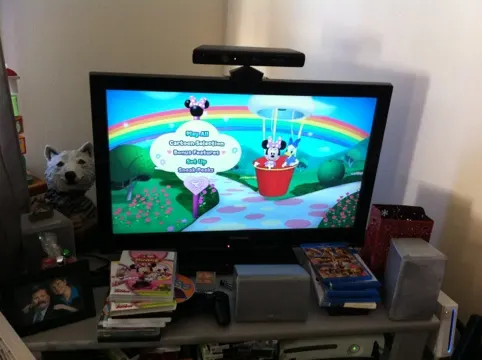 Mama S's son, D4, was very excited to start the DVD. I had it on with the menu music, waiting for everyone to settle in. We got it started when he asked to watch it. Though the children did not stay seated the whole time, they often stopped their play in order to watch a few minutes of it before resuming their activities, For example, Mama T noticed that her 8 month old daughter was watching the show. Her attention was captured for brief periods of time where she would smile and bounce excitedly. Rissa would frequently stop to stare, then would smile and dance around.
Mama S shared during the party that the Mickey Mouse Club show is one of the few shows on her approved list for her children to watch. She also said that she likes that Pete isn't completely bad or evil. I agree, it's good to show kids that even if someone behaves badly, they can redeem themselves. I liked how interactive the show is with pausing after asking questions. I found myself compelled to answer and guess what would be revealed with the Mouseketool!
With the auto play feature, the DVD started over with the first episode automatically which is perfect for letting it play in the background. Rissa definitely noticed when I turned it off shortly after our guests left. She wasn't very happy about it! I ended up turning it back on for her to listen to as we transitioned for naptime.
So, thanks again to our party guests and to Disney for providing the supplies!
______________
Disclosure: I received themed party supplies, a gift card for snacks, and the DVD in order to help facilitate the viewing party I hosted. No other compensation was received.