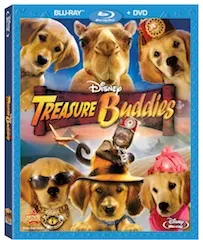 Treasure Buddies
Released on Blu-ray and DVD on January 31, 2012
Rated G
Bonus Features:
· DIGS: B-Dawg Edition – In this fun bonus feature, B-Dawg the hip hop happening pup gives a tour of his home to kid reporter G.
· "Roam" Music Video – A re-make of The B-52s song performed by Caroline Sunshine, Kenton Duty and Adam Irigoyen from the cast of the Disney Channel hit series "Shake it Up."
Synopsis:
The Buddies are off on an all new adventure, and this time their journey takes them all the way to the ruins of ancient Egypt where, with the help of some new friends, including Digger the Archeologist dog, Cammy, a baby camel, and a mischievous monkey named Babi, they'll explore mysterious tombs, dodge treacherous booby traps, and race against a devious cat in search of the greatest treasure known to animalkind, the lost collar of Cleocatra.
My Review:
The Buddies are at it again – getting into mischief and adventure while their humans do the same. This time they end up traveling to Egypt to help keep an eye on their archaeology driven humans. Something must be going on if there is a cat owner involved, a cat owner who just happens to have half of a special key to the lost collar of Cleocatra. I thought the movie was pretty cute. Rissa liked the dogs and kept signing dog, but she didn't sit still to watch it. Besides the Buddies, there was a friendly and helpful camel and a couple of monkeys to help provide comic relief (despite trying to steal everything!). Being a cat lover, I could appreciate the humor of the power hungry kitty trying to take over the world. The film is definitely family friendly as no one is seriously harmed. The bugs might make your skin crawl though! The Buddies definitely try to make the best out of any situation and are good at saving the day.
There weren't many bonus features, but the DIGS feature was amusing. If you remember MTV Cribs, you will see the comparison and recognize even the camera effects used while touring the mansion, checking out the fridge, and of course, the pool. Rissa perked up for the Roam cover video sing it involved singing and dancing.
I'll leave you with one of my favorite scenes from the movie. This is Budderball's mirage in the desert – much how I imagine my own hunger induced one would be!