I've said it before, working breastfeeding moms really have it tough. They are super dedicated and have to juggle pumping breast milk for their babies. I honestly don't know that I could have done it. Actually, I know with my case manager job it would have been nearly impossible to pump as needed to maintain my supply. I lucked out, truth be told. I haven't needed to pump very much other than when Rissa was a couple weeks old and struggling with proper latching.

When my lactation consultant measured me for a nursing bra, she suggested I stay away from hands free pumping bras because they don't usually work well for plus sized mamas or for women with real large breasts. I pretty much figured hands free pumping was out of the question then…
A few months ago I started pumping milk for another baby, and I thought a hands free pumping bra would be great if there was one for plus sized women! Unfortunately, due to me getting sick, then stressed and out of town… I had to put pumping on pause and I decided to stop struggling to build it again for extra for that sweet baby (I really hate that I couldn't keep it up…). All that happen just as the Simple Wishes bra arrived for me to review.
Simple Wishes was developed and designed by four sisters looking for a simple solution to the need for moms to multitask even while they are pumping. I know I try to multitask while nursing directly, so yeah, I had trouble sitting and holding my pump apparatus in place for 15-30 minutes at a crack. And goodness, don't let baby need anything from attention to a diaper change while trying to pump… It's not easy to try and tend to a child with hands full, precious milk easy to spill, pump tubing… Ahhh!
Simple Wishes pumping bra comes in two color choices: pink or black. It also only comes in two sizes, but each one covers a range of one to three sizes because of how adjustable it is. When I first took the bra out of the box I was a little overwhelmed by the pieces. I loved that my choices were simple when picking it out, but now to wear it…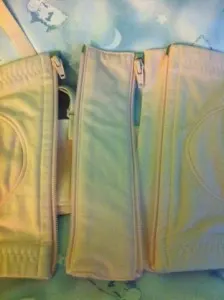 There is a main piece that covers the breasts and has the access flaps for the pump flanges, an extra section that can be zipped in to add a couple inches between the breasts, straps to attach, and a back section to velcro than helps to add up to 10 inches to the band.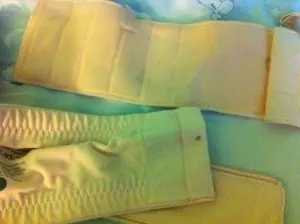 I like that you can chose to wear the straps in a couple different ways, including halter style. If you were to wear this beneath your clothing, the ability to wear your straps how you want is a plus. I tried the extra zippered section, which felt more comfortable spacing-wise for me, but it wasn't lining up as well for access points. The back part was the hardest for me to adjust.
Once you get it adjusted to fit you well, it's not so bad. I treated it like a front closure for taking it on and off. (When I first put it on, I attached the back to velcro on one side, then awkwardly put it on over my head before trying to secure the other side. Yes, I felt silly!)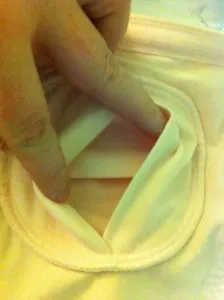 The access uses a system of four flaps. The criss-crossing opening really holds the pump in place, keeping the suction. It also keeps your nipple pretty well covered.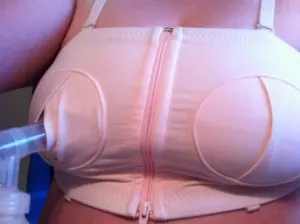 (Yes, that's me!)
While wearing this with the pump flange in place I was able to pump hands free, lean over, pick up stuff, get the pump plugged into the wall (and unplugged), and walk around. It never came out of place. I was impressed since I felt very naked and vulnerable. I don't know that I'd go topless pumping in an office even though I'll nurse in public without a cover. (Funny how we can be about our bodies sometimes, hmm?)
I may need to work on better adjustment of the back panel because I was lacking serious support under the girls. I would not wear this for fun! But, it certainly gets the job done. Not sure I'd want to wear it all day under work clothes, but I'd change into it at pumping time.
Favorite: How adjustable it is to your fit and can accommodate fluctuating sizes until supply stabilizes.
Least favorite: All the separate pieces. I'm afraid to take it apart again.
Conclusion: This is a good hands free pumping bra solution for plus sized women and any mother needing to multitask while pumping. The price is reasonable and on par with regular nursing bras. I recommend this to other breastfeeding moms! Put it on your registry or buy it yourself – you should get your money's worth out of it unless you don't pump.
Where to buy: This bra retails for about $39 and can be purchased at SimpleWishes.com, boutiques, some Target stores, or on Amazon
.