Thanks to Melissa & Doug for providing the Patch Sand Toys set for us to review!
So what's at the top of your summer destination list? I bet the beach is high up there! If not the beach, then I'm sure it's the lake or a park with a sand box, right? There's just something about playing in sand that says summer! And if you are loading up the kids for fun in the sun, they are going to need some special toys to play with too.

At Melissa & Doug, there is such a great selection of children's toys. They take pride in offering high quality, value, and design on over 1,000 innovative products for all ages. They've been around for over 20 years and are a favorite in many households. Right now, their Sunny Patch sand toys are hot! And it's our first experience with the Melissa & Doug line.
We received a fantastic set that got me excited about playing in the sand! Rissa is still a bit young for that, but she still enjoyed banging them around and sticking them in her mouth (of course). I was going to let my nephews play with them, but didn't want them to get too attached! These were toys mama didn't want to share.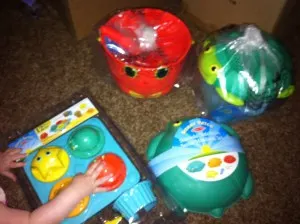 If you don't get anything else, then you'd want at least the Clicker Crab Pail and Scoop to take to the beach. This is a very fun twist on the classic pail and shovel needed for fun in the sand.
The Seaside Sidekicks Sand Cupcake Set comes with a cupcake tray, cute toppers, a molding piece to form cupcakes outside the tray and a mesh bag to carry it all in. The icing tool is small and might get lost if you don't keep an eye on it.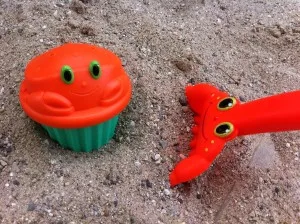 The Seaside Sidekicks Sand Baking Set is absolutely adorable. The pot is easily used to store the nesting measuring cups (with actual measuring sizes on them), a crab spoon, an octopus whisk, and the turtle lid also sifts sand.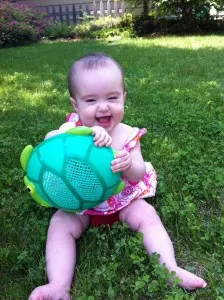 To add even more fun to the cupcake molding or to add to awesome sand castle scenery is the Seaside Sidekicks Sand Molding Set. I worry about losing the little seahorse, but I like that they nest in each other for easier storage and carrying. Use the star for making awesome decorations on your sand castle walls!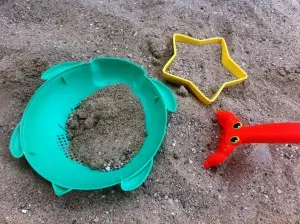 While these were fun to use in the sand box, I definitely think the beach is more ideal. Completely dry sand doesn't pack and mold as well as wet sand. If you are okay with getting your sand wet – then awesome! These are nice and brightly colored, making them easy to see in the sand (even when they get half buried) and will draw attention to them as well.
Final thoughts: I can't wait until Rissa is older and can enjoy playing in the sandbox with her cousins more. She'll have some fabulous toys to take in with her! These are great for the backyard box, the park, the lake, or the beach. Heck, Rissa enjoys playing with them in the house. (Her favorite is the octopus whisk!)



______
** FTC Disclosure: I received the product(s) mentioned above free of charge by the company or PR representative in order to conduct an honest review. I was not compensated in any other way for this post. The thoughts, experiences, and opinions included are entirely my own and may differ from that of others. I am not liable for any issues you may incur from use of said product(s). Images used are owned by me or provided with the company's permission unless otherwise sourced. See full disclosure information. If you have any questions you can contact me or leave a comment.