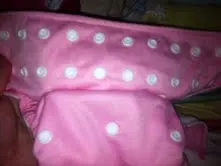 Today we bring you another affordable choice for pocket lovers – Lovely Pocket Diapers! LPD really does have affordable prices. The regular pocket diapers sell for about $7-$7.50 each. The new collection, The Rave costs $12-$12.50 each. Additional inserts are reasonable priced too – about $3 each. Melissa, the mama behind LPD, became a first time mama just last Thanksgiving! (Yay for fall babies!) She started off using prefolds and researched cloth diapers, trying to find a more affordable option. (We have a theme today!) I'm actually quite impressed with how quickly she's gotten her business up and going in such a short amount of time!
They also give back to the community. While these diapers are some of the lowest costing ones I've seen, they donate at least 10% of their supply to families in need. They also provide a way for you to donate their diapers with the Share the Love program.
Features
Melissa sent me a pretty pink diaper from her new Rave collection. The Rave line offers more adjustability (4 rise settings), two rows of waist snaps, and double leg gussets. The PUL outer keeps everything in. The pocket lining is microsuede, which is nice and soft. Both diaper styles come with one triple layer microfiber insert. Additional inserts are for sale and bamboo is an option as well.
Looks & Usability
One of the things I was surprised by was how similar it looked to another diaper, but it still had it's differences. The pocket was easy to stuff, but the back cover kept it in too well. I like to try and shake them out without toughing, if possible. The opening is in the back and the cover made it tougher for me to shake it out. I didn't try double stuffing for overnight. We did use this diaper while out of town and for naps. We haven't experienced any leaks! Rissa did test it out by making a mess in it – everything stayed inside!
Fit
I do like how it fits Rissa. It's pretty trim on her too. It wasn't hanging all out of her onesie or giving her a bigger than usual fluffy butt. The gusset is snug to her skinny thighs. We're on the second rise setting with the waist about as small as I can go. She could use it tighter around the waist, but then it starts getting too tight across the tops of her thighs. Most of our waist tabs are angled or rounded, but I like the squared look of the tabs.
Laundry
Other than needing to help pull the insert out, laundry is fine. The insert cleans well and drys in one dryer cycle. The shell dries quick on the line.
This is an affordable way to expand my stash without sacrificing quality. I do wish they came with two inserts like most major brand pocket diapers. I'm always looking for unique prints too.
** Buy it! **
Find affordable cloth diapers at Lovely Pocket Diapers. Summer Special – Buy 6, get 7th free! You must contact Melissa via the site for the 7th one.
** Win it! **
Lovely Pocket Diapers has generously offered a giveaway!
Prize: One Lovely Pocket Diaper (You choose! RV $12)
Open to US and Canada; 18+
Giveaway will be open until 11:30pm central on June 25th.
Leave one comment per entry. We now have the WordPress plugin "And the winner is…" that will randomly select the winning entry. Winner will be emailed and have 48 hours to respond or a new winner will be selected. See full giveaway policies for additional details. You do not need to leave your email in the comment, just in the name/email form lines.
Mandatory Entry:
+1 Visit Lovely Pocket Diapers and tell me what color/print is your favorite or another product you'd love to try/have!
Optional Extra Entries:
+1 Follow @LoveDiaps on Twitter
+1 "Like" Lovely Pocket Diapers on Facebook
+1/EACH Follow Tales From the Nursery, Formula Mom, and Mama on a Green Mission publicly on Google Friend Connect (GFC) – Leave your GFC name please and who you follow (separate comments for each)
+1 Subscribe to Tales From the Nursery by email (must confirm)
+1/EACH Enter another Summer Fluffin' giveaway hosted here. Leave a comment telling me for each one you entered.
+1/EACH Leave a comment on a Summer Fluffin' topic post (non-giveaway). Leave the topic or post title in your entry.
+1 Tweet this and leave direct link to it: Enter to #win cloth diaper of choice from @Syrana and @LoveDiaps! US/Can; Ends 6/25 #clothdiapers #giveaway http://bit.ly/iLtcTf
+1 Enter the Lovely Pocket Diapers giveaway at Formula Mom
** Interested in more extra entries? Check out >>THIS POST< < and follow the directions – Label them "EXTRA 1, EXTRA 2″ etc. Remember, you can apply those extras all to one giveaway or split them up over several giveaways during the event. **
_______
** FTC Disclosure: I received the product(s) mentioned above free of charge by the company or PR representative in order to conduct an honest review. I was not compensated in any other way for this post. The thoughts, experiences, and opinions included are entirely my own and may differ from that of others. I am not liable for any issues you may incur from use of said product(s). Images used are owned by me or provided with the company's permission unless otherwise sourced. See full disclosure information. If you have any questions you can contact me or leave a comment.