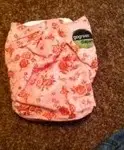 When talking about pocket diapers, one of the cons I listed was price. The average price for a (one size) pocket diaper is $20. This really adds up, even if they are awesome and are used a lot. This was something Leah, the mama behind GoGreen Pocket Diapers noticed too. She had three little ones in diapers when they made the switch to cloth. Her family liked how pocket diapers worked for them, but it was pricey (although still cheaper than disposables) to buy a pocket stash to accommodate three kids! It became her mission to provide quality, affordable pocket diapers.
And, we're glad she's passionate about it! GoGreen's reusable diapers range in price from $9.99 to $14.95 and they offer accessories as well. I have been wanting to try GoGreen and have entered so many giveaways for them. I really should have just gone ahead and bought one! And they have some of the cutest prints, seriously. I love the names too – so fun. (Not too long ago, I remember putting in a suggestion when the fans got a chance to try and name Techno Tushie!)
So what's the deal with The Champ?
The Champ is a one size pocket diaper with perks. There are openings at each end making it easier to stuff and so it will unstuff itself in the wash. That's right! No need to touch the insert. You can also snap one end of the insert so it stays connected during your laundry routine. You can also lay the insert on top of the liner if you choose. The lining is soft suedecloth and the insert has 3 layers of microfiber.
There more sizing options than their regular diaper as well: 4 rise settings and two rows of snaps along the waist with 10 different snapping points. They also have Dual Gussets™ to fit nicely around the thighs and keep the mess inside.
The Champ 2 Improvements
I never got to experience the original Champ, but here are the improvements and added features:
Hip snaps
Front pocket cover made with PUL to prevent wicking
Back pocket has a cover flap
I wasn't sure what print I was getting, I just said I'd like girlie or neutral. I was super excited to receive Buns 'n Roses to review! It is one of my favorites (I also love the Giraffe print and Twinkle print!) and what I was hoping to get.
Looks
Rissa wanted to try it on while I tried getting pre-laundry pictures!
This is a nice looking diaper. The outer shell is waterproof, but fuzzy. The pattern is very cute for little girls. (Brian said it looked like a gramma print – I decided he won't be picking out any fluff prints anytime soon…) It didn't look big or small. It looked comparable in size to our other pocket diapers. The insert looked wider than I thought would fit in the pocket tunnel, but I had no issues stuffing it. I like the fuzzy shell – it adds variety!
Fit
It fits Rissa very well. Shes long and skinny, but the inner gussets are snug to her little thighs. The hip snaps help with adjusting the fit and keeping the diaper on. Even with fastening the waist in the smaller settings, there's extra room in there. We're on the second (middle) rise setting.
Usage
We haven't had it super long, but we've tried it out a few times. Rissa wore it through breakfast and a nearly 2 hour nap without any leaks! I thought that was good especially since the insert was washed less than 5 times. The suedecloth liner is not something I'm used to. It feels almost like jersey material to me – smooth and shiny. It's soft on the side for baby's skin. It seemed to keep her fairly dry, which is good, and no fuzzies stuck to her like some of the microfleece liners do to her.
Laundry
While I like that it unstuffs itself and I can leave the insert snapped to the shell, that doesn't solve my sorting! I like to hang my shells to dry to give them longer life. I don't like to hang the inserts (my line is in the basement) so those go in the dryer. They do dry within just one dryer cycle for me though. The shell dries within that time and the outside stays soft and fuzzy!
I think I need more! It's definitely a quality diaper for less! I just wish they came with two inserts.
** Buy it! **
GoGet your own GoGreen Pocket Diapers! Wonderfully affordable pocket diapers – $14.95 for Champ 2; $9.99 for the others!
** Win it! **
GoGreen Pocket Diapers has generously offered a giveaway!
Prize: One GoGreen Champ 2 (You choose color RV $14.95)
Open to US; 18+
Giveaway will be open until 11:30pm central on June 25th.
Leave one comment per entry. We now have the WordPress plugin "And the winner is…" that will randomly select the winning entry. Winner will be emailed and have 48 hours to respond or a new winner will be selected. See full giveaway policies for additional details. You do not need to leave your email in the comment, just in the name/email form lines.
Mandatory Entry:
+1 Visit GoGreen Pocket Diapers and tell me what color/print is your favorite or another product you'd love to try/have!
Optional Extra Entries:
+1 Follow @GoGreenDiapers on Twitter
+1 "Like" GoGreen Pocket Diapers on Facebook
+1/EACH Follow Tales From the Nursery, Formula Mom, and Mama on a Green Mission publicly on Google Friend Connect (GFC) – Leave your GFC name please and who you follow (separate comments for each)
+1 Subscribe to Tales From the Nursery by email (must confirm)
+1/EACH Enter another Summer Fluffin' giveaway hosted here. Leave a comment telling me for each one you entered.
+1/EACH Leave a comment on a Summer Fluffin' topic post (non-giveaway). Leave the topic or post title in your entry.
+1 Tweet this and leave direct link to it: Enter to #win The Champ 2 from @Syrana and @GoGreenDiapers! US; Ends 6/25 #clothdiapers #giveaway http://bit.ly/jsuuS9
** Interested in more extra entries? Check out >>THIS POST< < and follow the directions – Label them "EXTRA 1, EXTRA 2″ etc. Remember, you can apply those extras all to one giveaway or split them up over several giveaways during the event. **
_______
** FTC Disclosure: I received the product(s) mentioned above free of charge by the company or PR representative in order to conduct an honest review. I was not compensated in any other way for this post. The thoughts, experiences, and opinions included are entirely my own and may differ from that of others. I am not liable for any issues you may incur from use of said product(s). Images used are owned by me or provided with the company's permission unless otherwise sourced. See full disclosure information. If you have any questions you can contact me or leave a comment.