Well, it's pretty obvious I've fallen off the get healthy wagon. Not that healthy eaters can't indulge once in awhile, but I've been indulging frequently… again. I just wasn't telling you about it. Probably a good thing though because these bars would have filled me up with too much guilt otherwise. Seriously, these are .. delicious. And a bit heavy.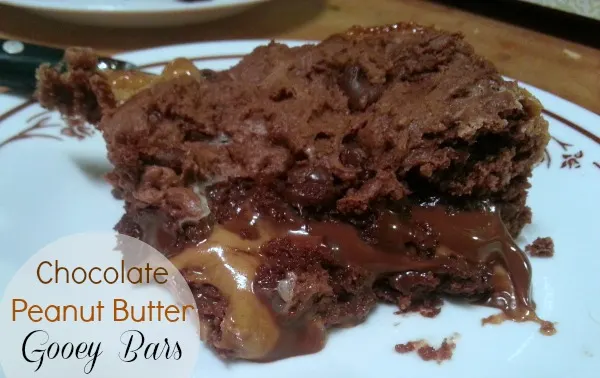 They aren't the prettiest looking bars, but damn, your mouth will thank you. By the second day it was a little easier to eat them by hand rather than fork. Even a few days later (surprisingly they lasted that long) they were soft and gooey. The peanut butter wasn't oozing so much anymore but nothing hardened up too much.
As for my inspiration – it's hard to nail that down. Gooey bar recipes have been around for quite awhile. I've looked at (and pinned) many to my Sweet Treats Pinterest board. Knowing the basic make up of one, I just kinda went with it and worked with what I had on hand. Rissa helped me make these too. She enjoyed placing the peanut butter cups down for me, although she kept trying to stack them up. If it would have been up to her these would be TALL gooey bars.
Hmm, maybe we should try that…
Anyway, here is what we made and devoured.
Chocolate Peanut Butter Gooey Bars
1 box chocolate cake mix
half stick of butter
2 eggs
half a can of sweetened condensed milk
12 Unreal peanut butter cups
Chocolate chips (didn't measure)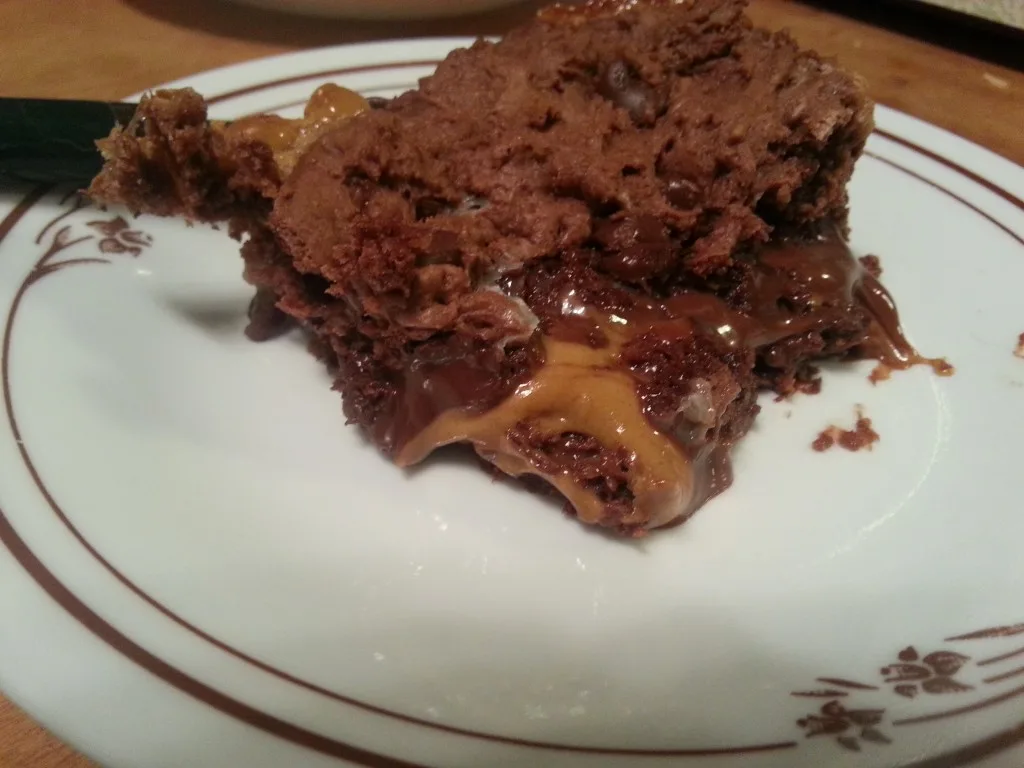 Preheat the oven to 375 degrees Fahrenheit.
Grease a square pan (I think mine was 9×9).
Melt butter.
Mix together butter, eggs and cake mix.
Spread about half to 2/3 of batter in pan. It will be thick!
Unwrap and place Unreal peanut butter cups over batter. Sprinkle chocolate chips.
Pour sweetened condensed milk over it. Decide what to do with the rest. Sample a spoonful.
Fold chocolate chips into remaining batter. As many as you want. I just poured straight from the bag *gasp*
Now this was the tough part – adding the rest of the batter. We floured our hands, grabbed handfuls of doughy batter, rolled them into balls and pressed them down. It was messy. And sticky. And my daughter kept licking her fingers. Somehow I managed to sorta cover the top.
Bake for 20ish minutes (sorry, I forgot to write down how long it was.. I'm so not a food blogger!). Knife should come out fairly clean of cake and the sweetened condensed milk will begin to look caramelized.
Let them cool, then cut and serve!