We received the new Jake and the Never Land Pirates DVD to review.
Since the whole Viacom / Netflix fiasco a few months ago, Rissa has added some new show favorites to
her viewing list. When we pick something to watch it is kind of nice to have more variety than we used to… there were only like 3 or 4 shows she'd be willing to watch most of the time.
One of the shows that got added to Netflix around the time we lost Yo Gabba Gabba access was Jake and the Never Land Pirates. I wasn't sure if Rissa would like it or not, but she picked it out one day and we've been counting gold doubloons ever since.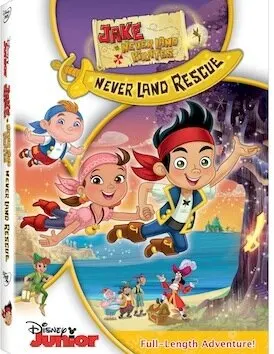 So, when we received this full length adventure to review you know Rissa was excited! And with every new DVD we get she wants to watch it non-stop for a couple days. This one was no exception. Being a big girl, Rissa feels pride in putting her own DVDs into either the Xbox 360 or PS3 by herself.
What I like about this movie and other Jake episodes is the messages of team work, being helpful, and problem solving.
I can't wait until we have warm weather again so we can have a proper Jake themed play day complete with treasure hunts, pin the patch on the pirate, and sand cake! Counting gold doubloons is always good for a learning activity.