Growing up, we didn't do family portraits. I used to consider it expensive and something only "well off" families do. Plus, I love candid shots. Portraits seem so stiff and unnatural and stress inducing.
My perception back then may have been misguided. Sure, it wasn't an expense we could afford on a regular basis, especially around the holidays, but they don't have to break the bank either. My parents DID have some professional pictures taken of me when I was little. Just never the whole family like many people do each year.
I never used to like newborn photo shoots too much either. Again, in my head, I was thinking frivolous expense and other nonsense.
Yes. Nonsense.
(Loved looking at them though.)
Shortly before I found out I was pregnant with Xander, I worked on a campaign to get pictures done at Kiddie Kandid inside our local Babies R Us. (They don't exist anymore.) It was fun and affordable. Nothing amazing, but it was nice to have our family captured.
Last year I was offered the opportunity to review a newborn session at Now It's Personal Photography, a local studio north of Milwaukee that specializes in newborn photography. I was very interested, but didn't realize how much I'd cherish those first photos. I'm kind of sad we didn't have them done with Rissa, but love all the moments we've captured regardless.
So, I decided that we'd return to Now It's Personal Photography this year for Rissa's 3 year, Xander's 1 year and our updated family portrait. The cost is reasonable especially since I think they do such an amazing job. They are good with the kids, take their time with us, and the quality is so much more than I can do. (And better than the store studio we went to previously.) I gladly paid!
After getting our pictures back, I've made up my mind that we definitely need to have a yearly picture taken! It was amazing to see just how much the kids have grown.

Plus she was able to capture the essence of my daughter on camera. Seriously, this picture sums up her personality and is what true, genuine happiness looks like. I love this picture so much!
Rissa enjoyed playing dress up with their props and clothes and even got a few poses with her BFF Muno.
For our family picture (and a few other adorable poses) I received a gift card to shop Gymboree's holiday collection for outfits for the kids. Rissa loves her new purple dress and Xander looks like a little man in his dressy sweater. I almost ordered fancier outfits but liked how these were dressy but still great to wear outside the holidays.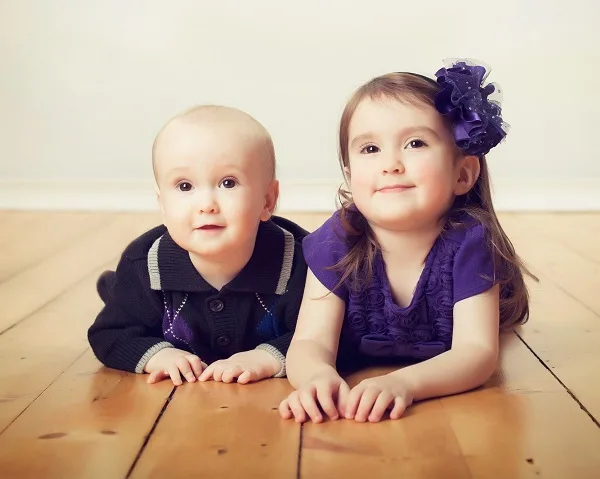 Now we are working on getting prints for our walls and trying to decide on which picture to use on our Christmas cards (yes, we are slacking on this a bit!)…. I'm leaning towards this one….
What do you think?
Do you have professional portraits done? How often?