Today, I share with you a very unique AIO diaper. Well, it's a snap in AIO and has the potential to be used as an AI2… but I'm getting ahead of myself…
I've been intrigued by itti bitti cloth diapers ever since I heard they were coming to the US in March of this year. I tried to enter every itti bitti US giveaway I could find – I had to try this reusable diaper! They are cute, first and foremost. And did you know they have seasonal prints? When the new prints come out, the old ones are retired. Collectible fluff, anyone?

itti bitti has worked on their one size diaper (the tutto) for over a year! They've worked hard to develop a one size that would fit trimly on most babies birth through potty training. (8lbs-44lbs) It features a waterproof minkee shell, hip snaps, 3 bamboo soaker pads, and gussets around the legs AND the back.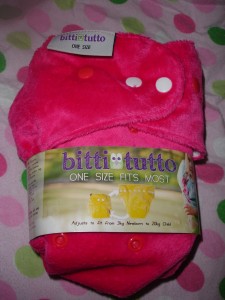 I received the itti bitti tutto in a gorgeous, vibrant fuchsia. This was my first minkee diaper, too, by the way. I think I have a new love affair with minkee. Looks cute and feels cuddly. Rissa is into exploring textures and has been interested in her new diaper. We didn't get to test out the "poop fence" as itti bitti calls the back inner gusset. Surprisingly, this is one of the few diapers Rissa has NOT pooped in. Maybe she thinks it's too pretty for that?
At first I was a little bit intimidated by the soakers and snaps, but the colored snaps make it easy to figure it out – just match up the colors and snap, snap, snap! Well, there are different variations you can do – some work better for boys than girls. It's kind of a neat way to adjust the soakers where you need it most. A small guide comes with, but you can also check out their online soaker guide too. It's kind of amazing how trim this diaper looks once it's on after seeing all the layers inside!
It fits really well on my long, skinny girl. It's nice and snug around her little thighs. There is still a gap at her waist. The shell doesn't have quite enough stretchiness for me to go tighter, especially with everything snapped in. This is where the hip snaps come in handy – no drooping though!
You can purchase separate soakers, so you could reuse the shell if it's not wet or soiled! I love the pink minkee so much that I need more soakers. I haven't tried using any of my other inserts laying inside. I should try this… and let you know what I find out!
Now, I haven't tried using the tutto overnight yet, but it has worked great for naps and errands. I generally put all 3 pads in. A few times I've been surprised that all the soakers weren't wet at changing time – so I think with a booster, it could last for us overnight. It can be quite a leap of faith to try a new night time diaper, especially when bedsharing… I don't want to wake up soaked either!
What about the laundry? I unsnap the soaker pads completely to get everything washed well. I wasn't sure how the minkee would be drying on the line, but it is fine. I wasn't sure if it'd feel crunchy or not like some of my diapers do if only line dried. The pads dry fine with just one dryer cycle.
I also want to note that itti bitti stands behind the quality of their diapers with their 12 month workmanship guarantee. I like knowing I can reach out to them if I have an issue.
Final thoughts – They are a bit more expensive. But, they are minkee and one size, so they should get plenty of use! Plus, the option to switch out soakers gives the shell more use. So, you could buy another set of soakers ($13 for bamboo; $10 for microfiber) which is cheaper than buying to tuttos.
** Buy it! **
Want your own itti bitti nappy? Check out this list of US retailers that stock itti bittis!
** Win it! **
itti bitti US has generously offered a giveaway!
Prize: One itti bitti tutto (They choose color RV $26.95)
Open to US and Canada; 18+
Giveaway will be open until 11:30pm central on June 21st.
Leave one comment per entry. We now have the WordPress plugin "And the winner is…" that will randomly select the winning entry. Winner will be emailed and have 48 hours to respond or a new winner will be selected. See full giveaway policies for additional details. You do not need to leave your email in the comment, just in the name/email form lines.
Mandatory Entry:
+1 Visit itti bitti US and tell me what color/print is your favorite or another product you'd love to try/have!
Optional Extra Entries:
+1 Follow @ittibittius on Twitter
+1 "Like" itti bitti us on Facebook
+1/EACH Follow Tales From the Nursery, Formula Mom, and Mama on a Green Mission publicly on Google Friend Connect (GFC) – Leave your GFC name please and who you follow (separate comments for each)
+1 Subscribe to Tales From the Nursery by email (must confirm)
+1/EACH Enter another Summer Fluffin' giveaway hosted here. Leave a comment telling me for each one you entered.
+1/EACH Leave a comment on a Summer Fluffin' topic post (non-giveaway). Leave the topic or post title in your entry.
+1 Tweet this and leave direct link to it: Enter to #win a Minkee OS itti bitti tutto from @Syrana and @ittibittius! US/Can; Ends 6/21 #clothdiapers #giveaway http://bit.ly/mFSeSt
+1 Enter the itti bitti giveaway at Formula Mom
** Interested in more extra entries? Check out >>THIS POST and follow the directions – Label them "EXTRA 1, EXTRA 2″ etc. Remember, you can apply those extras all to one giveaway or split them up over several giveaways during the event. **
_______
** FTC Disclosure: I received the product(s) mentioned above free of charge by the company or PR representative in order to conduct an honest review. I was not compensated in any other way for this post. The thoughts, experiences, and opinions included are entirely my own and may differ from that of others. I am not liable for any issues you may incur from use of said product(s). Images used are owned by me or provided with the company's permission unless otherwise sourced. See full disclosure information. If you have any questions you can contact me or leave a comment.