I think by now you all know that my daughter loves music. She loves to sing and dance and she likes to make music too. I find music to be a very important part of education which is why we really like our LeapFrog toys. We have their music activity table, a singing picnic basket, an interactive plush Violet, and more! When I was offered the opportunity to host a play party that featured some of the newest LeapFrog toys, I was pretty excited. The kids would love it!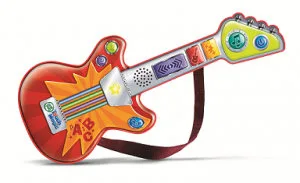 As soon as our kit arrived, I wanted to check out the contents. We received two
LeapFrog Touch Magic™ Rockin' Guitars
and a LeapFrog Touch Magic™ Learning Bus. Sometimes I forget how curious Rissa can be… she peeked into the box too and saw the guitar. She asked for it excitedly, wiggling her fingers air guitar style. I couldn't get it out of the box fast enough for her! She put the strap over her head with a bit of help from mom and started touching the buttons. I love the touch technology because I don't have to worry about her not pressing down hard enough, though sometimes it registers too easily when she doesn't mean to do something like change the song.
I showed her how to strum and off she went! She has been playing with the guitar A LOT since it arrived. (She also likes me to play it for her sometimes so she can just focus on dancing and singing.) There are 10 different songs and she is learning the words to them, as am I. Whenever the Itsy Bitsy Spider plays she stops to do the hand motions. Her other favorites are Back and Forth (about sharing), If You're Happy and You Know It, Rockin' Robin, and ABCs.
The LeapFrog Touch Magic™ Learning Bus stayed hidden in the box until the party. The second guitar also remained in the box. We didn't need two, so we decided we'd give one away at the play party. Rissa helped me fill out the invitations and got ahold of the coloring activity sheets. I managed to save the $5 off coupons to hand out to interested moms though.
Unfortunately, a lot of our friends were pretty busy and were unable to come. However, we were invited to a cookout that same weekend where there would be other families attending. We asked if could bring along the new toys for the kids to play with and had a great time.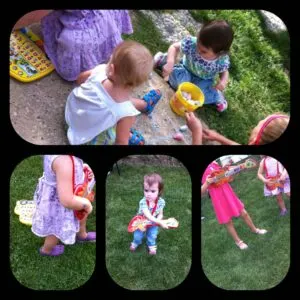 The kids took turns playing with the guitars – they were the big hit among everyone. The younger ones were interested in the bus. My daughter played with the bus for the first time on the way to the party. She really enjoys it, but was distracted at the party by the outdoor toys they had.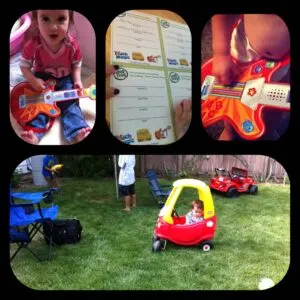 It was good to see the kids having fun and not need assistance to figure out how to work the guitars and bus. A couple moms had questions about the toys which I answered the best I could and offered the coupons as well. I tried to get video of my daughter singing and playing the guitar, but it hasn't been an easy task – she likes to move around a lot while playing!
Record Your Little Rockstar! (Video Contest)
Encourage your child to rock out for a chance to win prizes by entering the LeapFrog Touch Magic™Rockin' Guitar Video contest! From now until November 30th, 2012, you can enter for a chance to win a $500 gift card! Visit www.touchmagic.leapfrog.com to enter and upload a video of your kid playing & learning with Touch Magic™ Rockin' Guitar. Your friends and family can help too, by viewing your video and voting. The five videos with the highest consumer votes and LeapFrog Panel votes will each have a chance to win a $500 gift card! You can also win prizes just for casting a vote, with weekly drawings for Touch Magic™ prize packs, valued at $100 each!
Have you tried any of the new Touch Magic toys? What do you and your kids think of them?
_____
Disclosure: We received the above featured Touch Magic™ toys (guitar and bus) as part of a kit to host a party through a MomSelect campaign.