One thing my dad always stressed when I was growing up was the importance of having dinner together. It was the one time no one was allowed to take phone calls. As I grew up and life became busier, it was the one time of day we could count on to connect and have a bit of quality time. Of course, things came up that interferred with dinnertime sometimes, but for the most part I stuck to it and so did he.
Now with my own family, we try to sit down together as much as possible in order to have dinner together. Sometimes we chat about our days, other times we watch a show together. It's an important part of our routime though – it's how we reconnect after being apart all day before doing our own things in the evening. We often set aside evenings to watch movies or play games together too. Being gamers ourselves, we enjoy this type of activity whether it is a board game or a video game!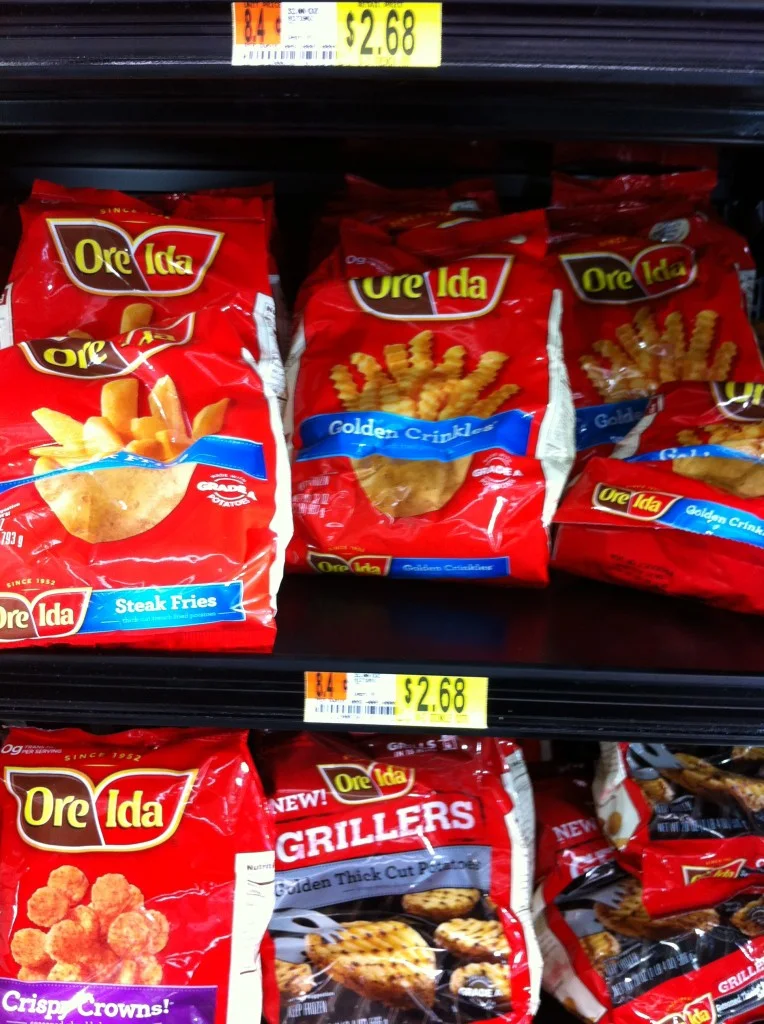 When we have a game night, we don't always schedule it ahead of time. It usually just "happens" based on how much time we have available between the end of dinner and Rissa's bedtime and what everyone feels like doing. This time it was nice to plan ahead so we could have a quick and easy meal, leaving us plenty of time to play! Toddlers like finger foods, hubby and I like dippable foods…. so Ore Ida Golden Crinkle French Fries and Tyson Chicken Nuggets sounded good to us! You can check out our entire shopping trip in my Google+ photo album.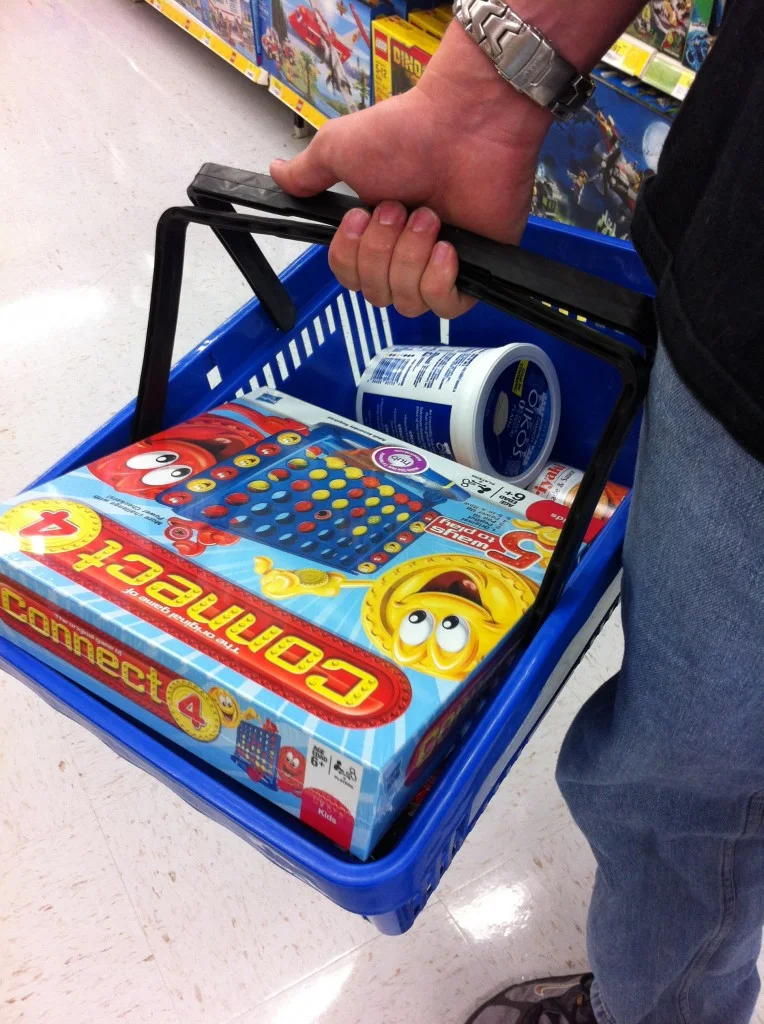 Even though we already have several boardgames, computer games, and video games, we decided to purchase a new one for Rissa. Most of our games are too old for her to play just yet. Though we do have some fun video games she likes to play. One of my childhood favorites was Connect 4. I have very fond memories of playing that game wiht my dad when I was little. I also remember making up my own games with the pieces.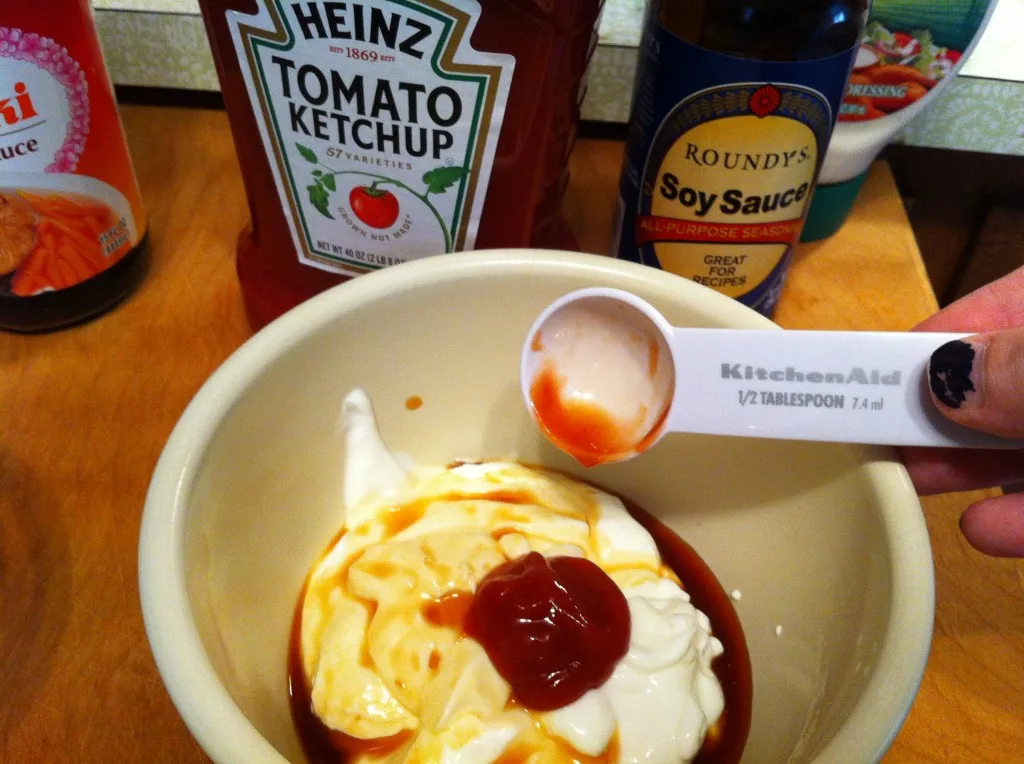 I wanted to make a dipping sauce, but really wasn't sure where to start. I don't create my own recipes often enough to know proportions of ingredients or what flavor complements another. When I'm inspired (or have time) I do like to play around a bit. Usually I'm more of a recipe tweaker than a creator. So, this was the first time I was starting without any idea of what to put in my bowl! I did know I wanted to use plain Greek yogurt instead of sour cream and/or cream cheese to make it healthier.
After I lined up several ingredients I was interested in experimenting with, I started adding a few things together and tasting the dip along the way. I kept adding more ketchup and teriyaki sauce until I was satisfied with the sweet, smoky, garlic flavor. It is a mild dip, but I wasn't feeling like anything too adventurous – just something a little different!
Mild Teriyaki Garlic Dip Recipe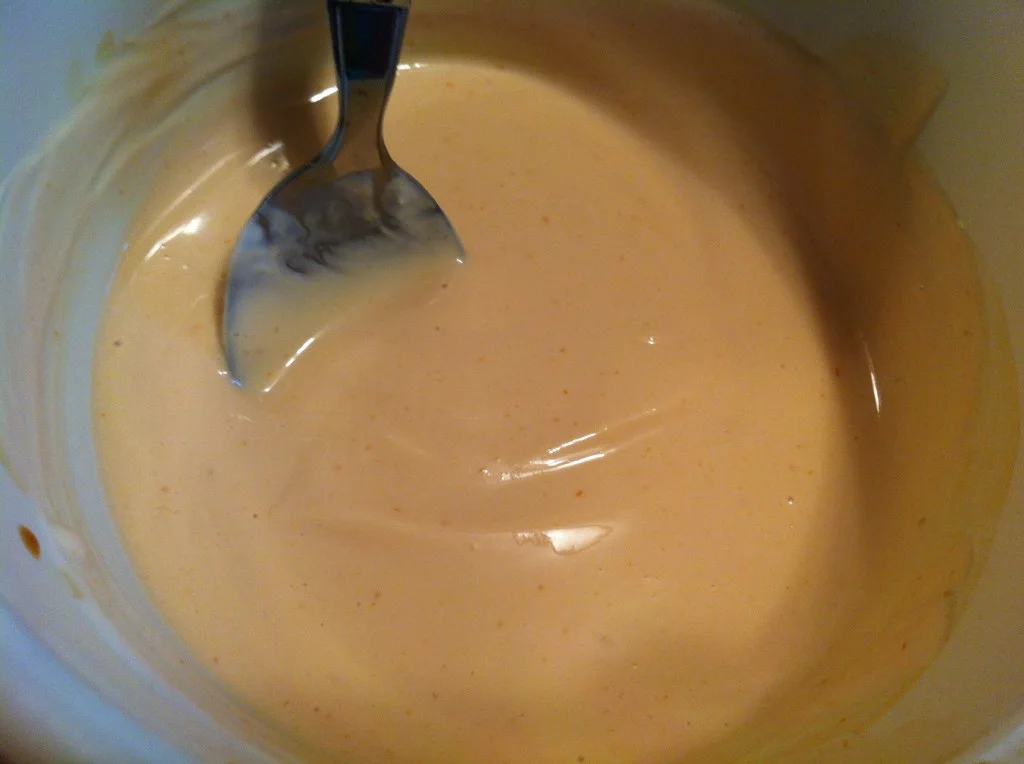 Ingredients:
2/3 cup plain Greek yogurt
1 TBS ketchup
1.5 TBS teriyaki sauce
1/2 tsp garlic powder
Directions:
Mix them all together! If you want to approach it like I did, then start with putting the yogurt in a bowl. Add 1/2 a tablespoon rach of ketchup and teriyaki sauce. Taste, then continue to add both until satisfied. Then add garlic powder to taste.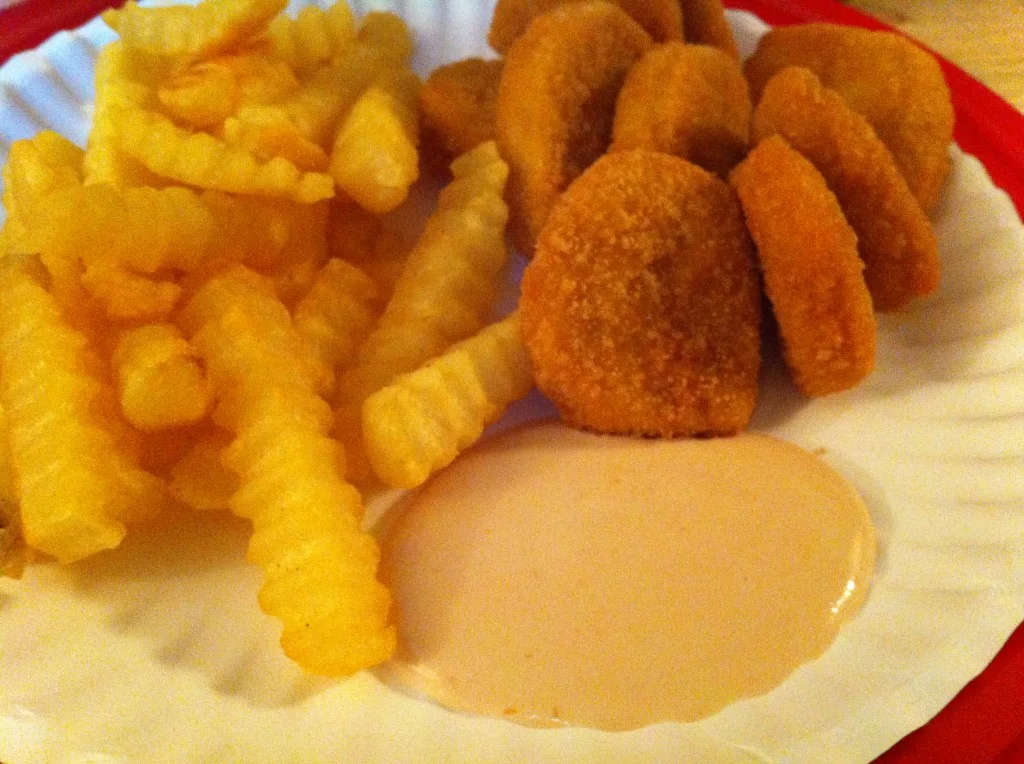 I thought the dip tasted better with the chicken nuggets than it did with the fries. Maybe we'll have to try it as a marinade sometime! After dinner it was time to play. This was Rissa's favorite part of the night!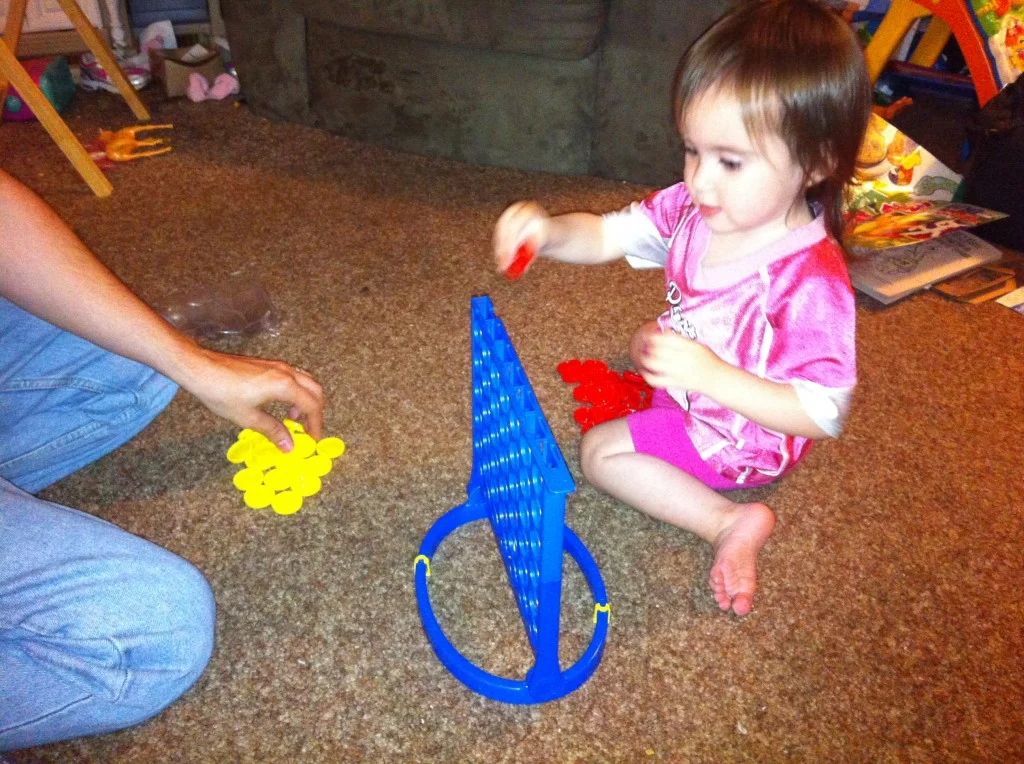 Although it is meant for children ages 6+ years old, Rissa still had fun putting the "buttons" into the board. (That's what she called them.) We were surprised at how long this game kept her occupied. She loved filling up the board and then letting them fall out all at once. At the very least she was working on hand-eye coordination, right?
From now through September 22, 2012, you can enter to win Hasbro games! It's super easy to enter. Just register an account at http://www.diptoplay.com and each day you can claim an entry by clicking on it. (You do have to provide personal information so they can contact and verify entrants drawn as winners.) Each week there are several games given away. There will also be a grand prize drawing! The grand prize is awesome: A $350 Gift Card to the www.HasbroToyShop.com online store, a $125 Prepaid gift card and a library of 25 of Hasbro's most popular board games! See the official rules and prize details.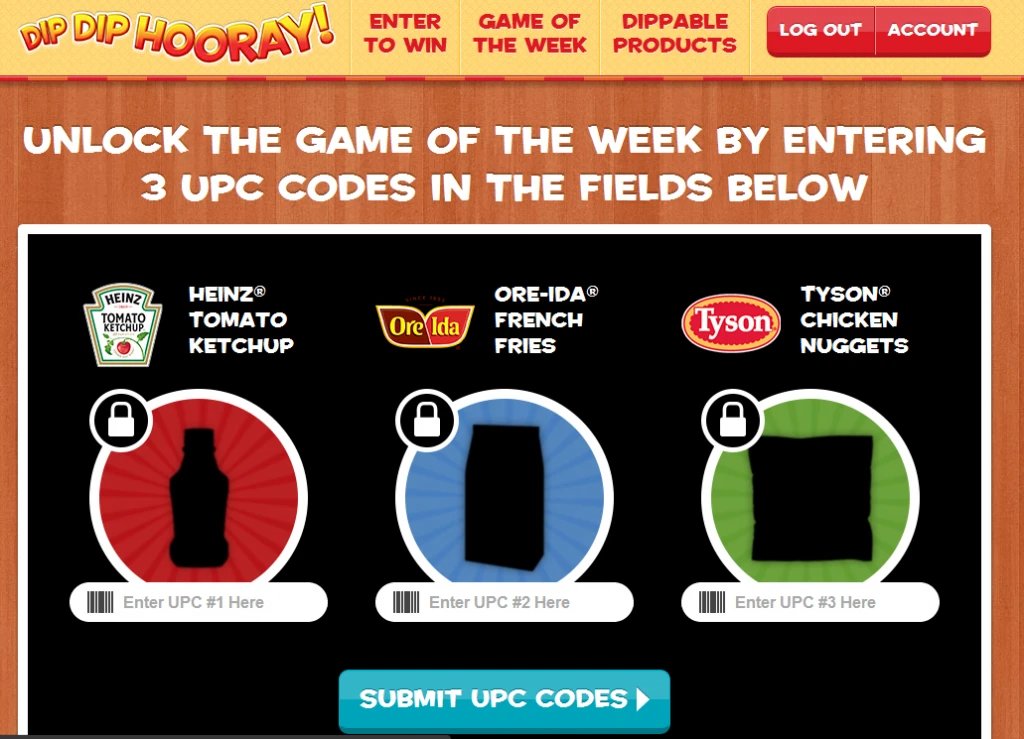 Also, by entering in the UPCs from Heinz Ketchup, Ore Ida French Fries, and Tyson Chicken Nuggets, you can unlock and play the Hasbro game of the week online! Now, while we were at Walmart we didn't see anything about the Dip to Play sweepstakes, so I'm very glad I learned about it through this campaign. I would love to win the grand prize and have a full set of Hasbro games!
What's your favorite family boardgame?
Connect with Heinz on Twitter @DipandSqueeze and on Facebook at http://www.facebook.com/HeinzKetchup. Connect with Tyson on Twitter @ClubTysonLive and on Facebook at http://www.facebook.com/TysonChickenNuggets.
_______
Disclosure: I am a member of the Collective Bias™ Social Fabric® Community. This shop has been compensated as part of a social shopper insights study for Collective Bias™ Tyson and Heinz #CBias #SocialFabric