Earlier in December I was provided with a unique opportunity to test out the new 2012 Kia Sorento. I was able to use it as though it was our family car for nearly two weeks. I have a lot that I want to share with you about this vehicle so there will be more than one post! This post will provide you with some information about the vehicle and a video I took with my phone (sorry, but that was my only option at the time!). Next week I'll talk more about how it was to install a car seat, about driving it, and my final thoughts on if this would be a good family vehicle!
This lovely silver beauty was delivered to my driveway so I could share my day-to-day experiences with you. This is the 2012 Kia Sorento from Kia Motors. It is an all wheel drive vehicle, seats seven, and includes additional features such as Sirius Satellite radio and a GPS navigator. I'm used to driving medium to small sized cars, not SUVs or trucks. The Kia Sorento is a smaller SUV type vehicle with a 4 cylinder engine. It gets about 20 MPG in the city and an average around 28 MPG on the highway, according to the product specifications. I was getting about 19-20 while I had it, and we did mostly city driving.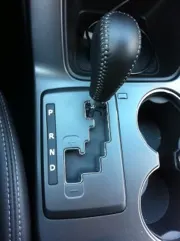 I'm not quite sure you'd call it an automatic, but it's not a traditional stick shift (manual) vehicle. The clutch is automatic, you just press the shifter forward or back (when in DRIVE) to shift gears. I've driven automatic and stick shift, so this hybrid was new to me, but I liked it! Makes it MUCH easier for city driving, especially in busy areas like parking lots during the holidays. Our holiday shopping was basically done by the time the Kia Sorento was provided to me, but we still had to go to busybusy stores! If I had been buying our gifts during this week, it would have been great to have all the cargo space in this baby. VERY roomy, at least when the 3rd row is down. It's still quite roomy when it's up too.
Take a peek inside….
Initial impressions: It looks like installing a car seat should be pretty easy. It is loaded with a lot of convenient features that I loved (and never had before). I fell in love with this vehicle pretty quick… and hadn't even driven it yet!
______
Disclosure: I was provided a 2012 Kia Sorento to test drive free of charge and was provided a gift card to cover gas for the vehicle. Unfortunately I had to give the vehicle back! No other compensation was received. All thoughts and opinions shared are mine and not influenced by the PR company or Kia Motors.