World's Best Cat Litter Review
I love our kitties, I really do, but 3 can make the house a bit stinky. We have tried a few different cat litters over the years. I used to think it didn't matter what was in the box, but my cats have taught me that they have preferences! One of our cats even likes to roll in litter. Yuck, he gets it all over the bed and drags it around the house more than the others because of this.
So, when I heard about this litter claiming to be The World's Best Cat Litter, I had to check it out. I had to see what these guys thought!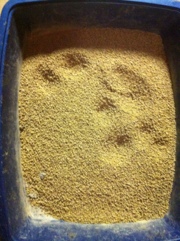 I received a small bag (7lb) of the multi-cat unscented clumping formula. Since being pregnant in 2010, my cat box duties have been handed off to Brian. Oh the lucky guy! Anyway, he filled 2 of the 3 boxes with the World's Best Cat Litter. Right away our litter lover had to hop into the box and walk around on it. We were concerned they might reject the new stuff so their 3rd box had the usual in it. As you can see by the picture above, one of our cats got in there right away – but did they keep using it? Yep! Well, we noticed that they urinated in the boxes with the World's Best Cat Litter in it, but the box with the old brand had a lot more poop in it. Not sure what that's about (they usually do things fairly evenly in all boxes).
So what makes this stuff so great? Well, it uses all natural ingredients! It's safe for your kitties and safe for you. The dust of the clay type litters makes me nervous – I don't want to breath that stuff in! This stuff is made from whole kernel corn so it is renewable as well. It is quite absorbent, clumps quickly, and doesn't stick to the box. It's pretty easy to scoop too. My husband said it was a little harder to see the clumps because the color is the same whereas the clay clumps tend to look darker. This stuff also keeps the smell in very well. I was pretty impressed! Usually I can smell it as soon as I open the basement door (the boxes are down there and there's a cat door flap on the door) and I always know when it is time for the weekly change out by the smell wafting up into the kitchen. Yuck. But, with the World's Best Cat Litter the smell is contained to the box area very well.
I think they might be on to something with the name…. it is great litter. My only issue is the cost as it is more expensive than clay formulas and there are only a few stores in my area that carry it. At least it can be ordered online as well. I'd love to continue using it… just not sure about the litter budget at the moment. We'll have to see. If we only had one cat it wouldn't be as bad because the bags would last much longer.
Subscribe
Get weekly sanity saving parenting tips, recipes, and kids activities.