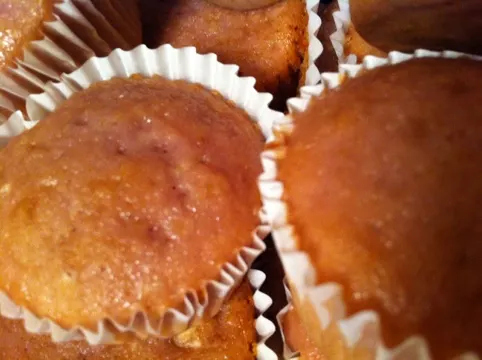 I once heard that you could make quick and easy cupcakes on the cheap by using just cake mix and soda or flavored water. I had a hard time wrapping my head around the lack of eggs and such at the time. Now that I'm getting more comfortable experimenting with recipes, I decided to try something different.
Cranberry Apple Cupcake Recipe
Ingredients used:
Duncan Hine's white cake mix
Old Orchard Cranberry Naturals – Cranberry Apple
Directions:
Preheat the oven to 350 degrees Fahrenheit
Pour white cake mix into a medium bowl
Add 12 ounces (1-1/2 c) Cranberry Apple juice and mix until well blended
Put cupcake liners in tin or grease well; pour mix in
Bake for about 25 minutes. Cool and frost (cream cheese frosting was yuuuum) if desired
Makes 14-24 cupcakes depending on how much mix you use in each one.
You may want to tweak this a bit. I found the cupcakes to be a little too soft and crumbly.. and sticky. Maybe less juice should be used.?