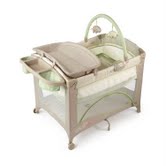 Choosing baby gear is a daunting task, especially for new parents! There is so much out there and a lot of factors to consider when making a decision. I spent way too much time on my registry! While in the store I looked at everything and scanned a ton of items. Then while I was home, I'd scour reviews and adjust my registry…. though sometimes this led me to tears. I really want this but someone said [insert negative review here]! I swear picking out gear made me question my ability to parent at some points! Once I let go of finding the perfect thing for each item we needed it went much smoother.
One of my top registry items was a playard of some sort. They are handy for travel as well as for offering a safe space when mommy needs to step away from baby for a few. While they aren't a replacement for a crib, they are definitely a handy piece of baby gear. When Rissa was first home, we used a playard with a bassinet in the living room while her regular bassinet was in our bedroom. Those first two weeks she slept so much, as newborns do, that we needed handy places to lay her down. I also wanted to keep her in sight!
The InGenuity™ Signature Edition SleepEasy™ Playard would have been helpful with the changing table area… but I'm getting ahead of myself! We received this playard to review with the help of my newborn nephew!
InGenuity™ Signature Edition SleepEasy™ Playard Features:
SleepEasy™ incline with 2 sleep positions: Flat or slightly inclined
Store Right Solutions™: Removable organizer tray and lower zip storage area for baby's necessities
One Less Step™ for quick fold and go without removing the bassinet
Soothing Sounds Station™ that includes 5 melodies and 3 nature sounds
Just Right Height™ elevated changing table easily pivots out of the way
Fabric toy bar with 2 plush toys
Travel bag included
Age/Height/Weight Requirements:
Weight/Height: Up to 30 lbs
Age: Birth & Up
Where to buy: Toys R Us/Babies R Us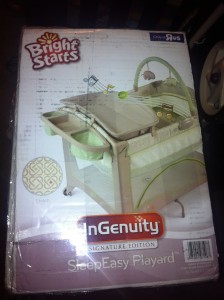 My husband and his brother popped the playard up quickly. I was surprised to see the bassinet already in it, zippered. Overall it was pretty easy to assemble, though I found it tough to connect the bars on the changing table because the fabric doesn't have much give. The changing table was sturdy and stable and there was plenty of room for all the essentials! Both my nephew and my daughter got changed on it. I loved the height of it – no bending down, bothering my back! I wouldn't normally recommend putting a one year old on this changing table, but my daughter is only 18.5 pounds and she stayed still for once.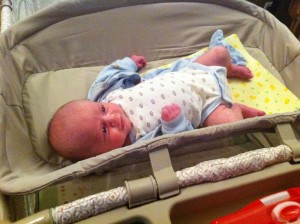 This playard has some really nice features that you don't see anywhere else. The bassinet is sturdy and can't slip off because it is zippered in. The pad is firm, but it's a little thicker so it's more comfortable. I like the look of it, I really do. My husband wasn't as taken with it as I was, but we are very used to ours. We did find that while collapsing it, it was often difficult to find the releases. I do like that it folds up with the bassinet attached. Ours does not do that! The other thing that we weren't thrilled about is the toy bar and changing table pieces don't fit in the travel bag. I wish everything could pack up together better.
Final thoughts: I think this is a great playard to have set up and use at home with a newborn. It provides a nice changing station! It's fine for traveling with an older baby especially if you do not need to bring the extra pieces that don't fit in the bag. They aren't essential for the playard to function. It looks nice and includes entertainment too!
Giveaway!
To enter, fill out the Rafflecopter form below. Duplicate entries will be invalid (only the first set counts if you enter more than once). Only required entry is the main one to enter your name and email into the form, the rest are optional.

______
FTC Disclosure: I received the product(s) mentioned above free of charge by the company or PR representative in order to conduct an honest review. I was not compensated in any other way for this post. The thoughts, experiences, and opinions included are entirely my own and may differ from that of others. I am not liable for any issues you may incur from use of said product(s). Images used are owned by me or provided with the company's permission unless otherwise sourced. See full disclosure information. If you have any questions you can contact me or leave a comment.