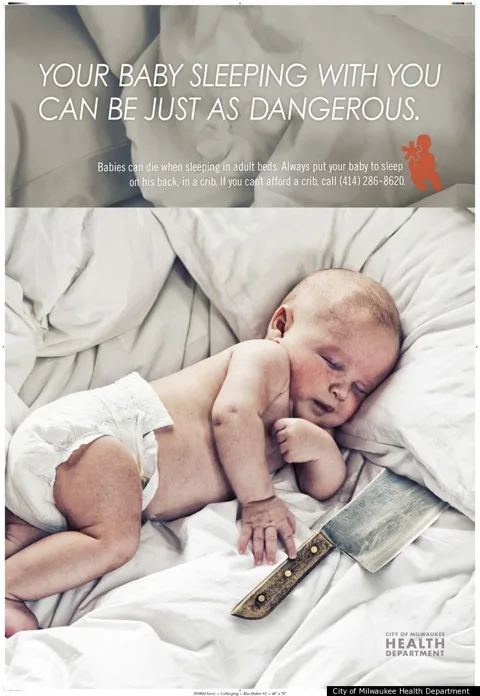 See this poster? It's part of Milwaukee's new initiative to stop cosleeping to prevent infant deaths. Are infant deaths tragic? Yes. Are misinformed scare tactics a good idea? No.
I live in the Milwaukee area and am appalled by the comparison of sleeping with a butcher knife. I mean, I can be sharp, but I'm not careless with our sleeping arrangements. I meant to write about this the very night i saw the start of this campaign, but I had to cool off so I wouldn't go off in an unprofessional manner! While I agree something needs to be done to improve the infant mortality rate in Milwaukee, I don't think further misinformation through scare tactics is the appropriate avenue. Why are these babies dying? My guess (since their data is lacking) is they weren't safely cosleeping to begin with which means they need EDUCATION, not to be terrified.
This ad campaign puts people like myself under unnecessary fire. People who safely cosleep are being lumped into the knife cuddling baby image. Cosleeping itself is not the problem. In a city with high alcohol consumption and drug usage, those, among other factors such as education, need to be addressed as well.
I feel sorry for the people seeing these posters, especially new mothers. They might be like I was – terrified to cosleep but baby won't sleep any other way. I agonized over this dilemma until I educated myself on safety precautions. If I had been exposed to this campaign I would have feared social services would knock down my door and snatch my baby right out of my bed. These images send the message that cosleeping is never safe and it puts your baby in imminent danger when that simply is not true.
And what do you know? We survived the first year.
what are your thoughts?