Everyone wants to make sure their baby shower is budget friendly, and our tips for how to create free baby shower invitations are going to be just what you need! There are so many fun ideas for making baby shower invitations without spending a ton of money, but I especially love the ideas that are totally free. Who wants to pay a ton of money out of pocket when they have a baby on the way? Not me!
How To Create Free Baby Shower Invitations
This post contains affiliate links.
While this simple tutorial for free baby shower invitations won't cost you anything, you will have to consider things like paper to print them on and even envelopes. That said, you can easily pick up some nice card stock and envelopes online or at your local retail store for under $10. I also like checking out stores like Dollar General for cheap embellishment stickers to make things pop even more!
Use Picmonkey Design option. To begin you free baby shower invitations, I recommend using a great online photo tool called Picmonkey. This application has both free and paid options, but the free option would be perfect for your needs.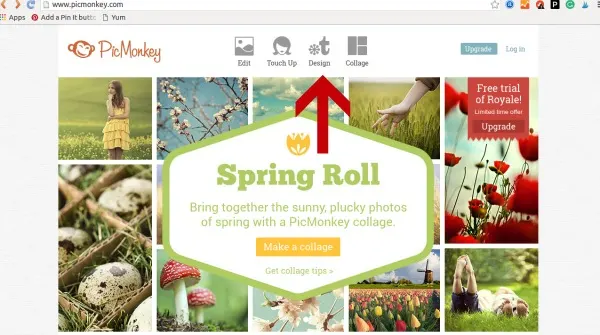 Add a background color image. You can choose from a vast color wheel to create a color scheme you like. There are tons of options and you can even play around with borders and overlays later to customize your look.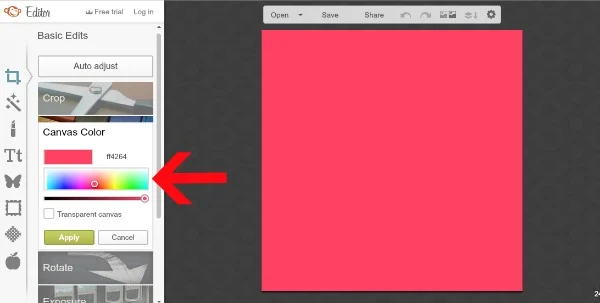 Decide what size invitation you want to create. There are tons of different options for a baby shower invitation. The easiest would be to send a single letter size that can be put into a classic envelope for an inexpensive choice. You can also design your baby shower invitation to print at a smaller 1/4 page size that an be cut and put into a small but unique envelope. Decide what your budget for card stock and envelopes is and settle on your design size.
Add overlays and text. This simple pink background turns into something even more unique when you use the added processing effects offered for making your own free baby shower invitations on Picmonkey! You can choose overlays (the butterfly symbol) and look for the ones that are free. The image below shows some that are part of the upgraded membership ($4.99 a month), but in the final product, I used some that are free.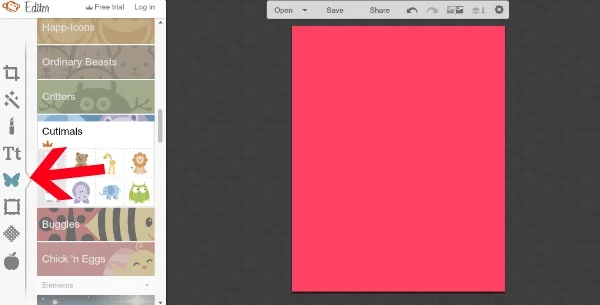 You simply move and adjust sizes as you want. On many overlay images, you can also choose to change the colors to match your theme better. You can then add a border if wanted, your text, and personalize for your baby shower using the various options they have for free, or adding your own.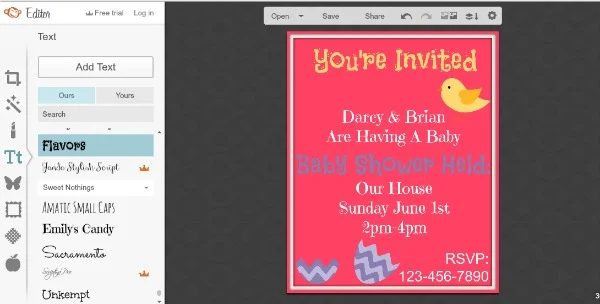 Save to your computer to print. I recommend saving as a .PNG file for best image quality, but you can also convert it to a .PDF if needed to send to a local printer.
You can easily make free baby shower invitations on simple copy paper in your home and even make your own homemade envelopes if you are super creative. If not, you can invest just a few dollars to print like mentioned above, or even send your custom files to a local print shop to print nicely without having to pay a middle man for the creation.


More great posts about a new baby: