Fruit snacks are a food that disappears fast at our house. Since my toddler loves them so much, I like to make mine at home so that we can have fun flavors and shapes, and so that I can have a little bit better control of the sugar content.
These fruit snacks can be made with any brand of flavored gelatin, I simply happened to have the Jell-O grape flavor on hand. You could also use the sugar-free gelatin for this recipe. In addition, I think that adding an all-natural fruit juice in lieu of the water would also be tasty. If you experiment with the recipe, be sure to let us know in the comments below!
Jello Fruit Snacks Recipe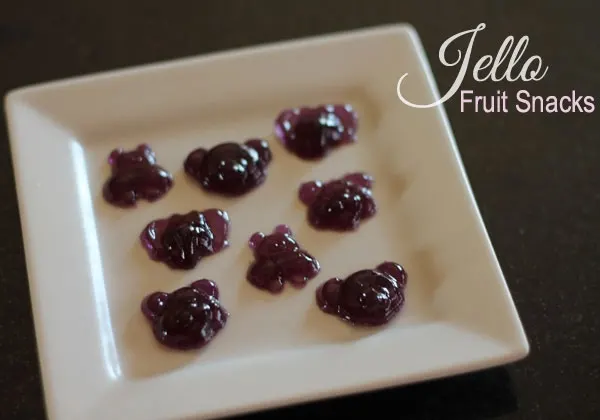 Ingredients:
1 Box Jello (Any Flavor)
2 Envelopes Unflavored Gelatin
⅓ Cup Water
Directions:
Combine all ingredients in a small saucepan over medium heat.
Mix with a spoon until gelatin is completely dissolved into the water.
Pour into molds or shallow ice cube trays.
Allow this to sit out at room temperature for 20-30 minutes (depending on the thickness of your snacks.)
Yield will depend on mold used. A small mint mold will yield 18 pieces.
These fruit snacks should be stored in a closed container and will last for several days stored at room temperature. That's right, there is no need to refrigerate! We have never actually had to store them for longer than a few days though because my family gobbles them right up.
In addition to a unique snack for your child's lunchbox, you can use almost any mint or chocolate mold to create fruit snacks for baby showers, tailgating, and holiday parties.
How will you enjoy your handmade Jello Fruit Snacks?
A special thank you for this guest post!
Amanda Long writes about home and family life on her blog, Midwestern Moms. When she isn't busy blogging or wrangling her 3-year old daughter, you can find her baking, crocheting, or reading a good book.