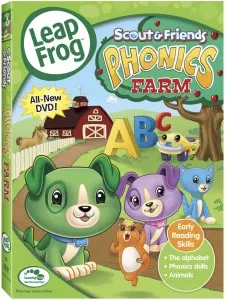 DVD Synopsis:
Meet Scout and his friends, Violet, Eli and Penny…best friends who have all kinds of learning adventures along with their magical toy car, Axle. When the pets long to learn about new animals for their games, Axle whisks them away to a magical farm to see a collection of letter animals the likes of which have never been seen before! The pets learn phonics as they participate in the animals' alphabet antics. The team gets in shape with an Athletic Alligator, consoles a Sad Seal and converses with a High-Pitched Horse as they make their way through the entire alphabet and make many new friends along the way!
DVD Features:
• 3 Sing-Along Songs
• Curriculum Commentary for Parents
•"Being a Puppy (The Scout Song)" Music Video
• "A Surprise for Scout" Storybook
My Review:
LeapFrog is a mom favorite with a full line of educational products and on November 8th they released a new DVD starring Scout (a lovable pup!) and his friends. LeapFrog Phonics Farm focuses on early reading skills by teaching the alphabet, phonics, and animals. Scout and his friends go over every letter of the alphabet and meet an animal that starts with each letter. They also focus on the sounds those letters make. This is important for sounding out words when learning to read. It also teaches adjectives and alliteration with the gang meeting animals such as the Athletic Alligator. The oddest one, in my opinion, was the Umbrellabird!
Phonics Farm is created for 2-5 year olds. Rissa, only 13 months old now, is still learning sounds and starting to learn to talk. While she's not ready to start reading yet, I think she can learn from this DVD too! And, she really enjoys watching it. Animals, letters and sounds are important to her speech development as well as to her reading development.
Great educational gift that is also entertaining to watch!
Where to buy: Amazon