Colorforms are celebrating 60 years! They've been around a long time and are STILL making fun play sets for kids. When I was younger, I had a variety of the static cling sticker sets. They were usually for a cartoon show I watched on Saturday mornings. They were fun because you could reuse them over and over placing people and items wherever you wanted on the board.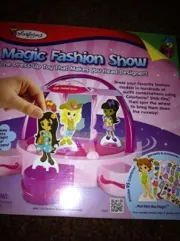 We received Colorforms Magic Fashion Show set, which is the perfect gift for 3-8 year old girls! And, well, for 30 year old women too. Seriously, I had fun playing with this… Rissa is too young yet and SOMEONE had to play with it! (I love my job!)
The Magic Fashion Show set comes with 6 paper dolls, a variety of cling sticker clothing and accessories, and an awesome runway for showing off their outfits! The stage is super easy to assemble (just a few snaps, no screws except for the battery compartment). There is a gear that you turn that moves the platform around. It's awesome because it spins the dolls as it brings them around. When they are to the front they are facing out – so they do their turn on the catwalk! AND it lights up.
Total coolness.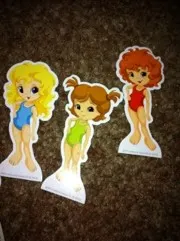 The stage has a secret drawer that is perfect for tucking away the models and their outfits. While the clings are not perfect, it really is fun. It's easy to change the outfits around and set the girls up on the stage. Some of the clothing can be hard to line up perfectly around the hands etc. but I don't think that is a huge deal. The clings can get bumped off, but they aren't meant to be super sticky. After being well loved from regular play, wiping them off can help restore clingyness.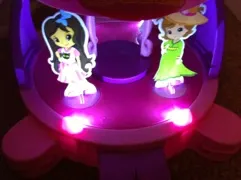 If a grown woman had fun playing with this, I think it's safe to say that a little girl would love it. I cannot wait until Rissa is old enough for this. This I will definitely hold onto for her. We'll get hours and hours of playtime out of it once she's 3+!
Where to buy: Amazon or AreYouGame.com or Toys R Us