Our family was invited to an expenses paid Disney World to see what it has to offer for preschool aged children. The views we share are our own. You already knew we loved Disney anyway. ;)
I used to think parents were a little crazy for taking little kids under the age of 5 or 6 to Walt Disney World. I'm not quite sure why I picked those ages. Maybe it's because at that age kids are better about listening, standing in line and waiting? (Or so I hope.) Maybe I think they'll remember it better then? Or actually be tall enough for rides? (Bonus, they actually have lots of rides without height restrictions.)
Truth is, I don't really know why I thought 5 was the magic number. I never got to visit Disney World when I was growing up. It always sounded like so much fun when classmates would go there on vacation.
My first time going was in 2004, right after I graduated college. It was fun and I brought back the best souvenir ever — being engaged to Brian. When we started expanding our family, we talked about when we'd take our kids to Disney World for the first time. For some reason, we settled on Rissa needing to reach that magical age of 5 or 6. I wasn't sure what there was for younger children to do. Honestly, I thought taking really little kids wasn't worth the cost if you didn't live locally.
I'm really glad we received the opportunity to go last March because they changed my mind. The best part about the trip, in my opinion, is that we pretty much experienced it like a typical family would. Yes, there were perks and special things done for the group, but our experiences were mostly what we could have experienced on our own. It was like a guided vacation with special opportunities we were very thankful for being provided.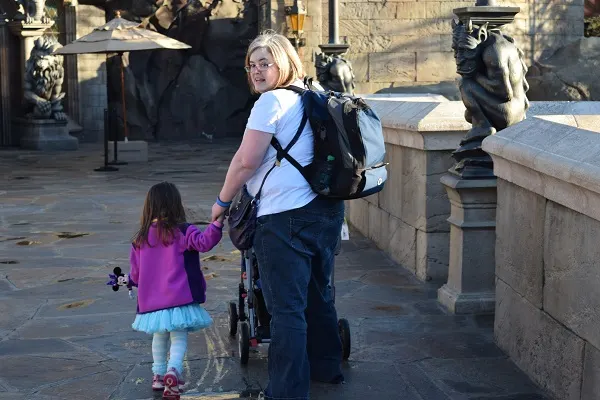 Of course, I feel our time there was too short. (Rissa agrees) We only saw a fraction of what Disney World has to offer. Next time we go, I definitely want to stay a minimum of four nights.
Disney World offers a nice, affordable three night package that is great for vacationing with a preschooler. A family of three (two adults and one child 3-9 years old–under 3 gets free park entry) can get a 3-night, 2-day package that includes 2-day theme park tickets, 3 nights in a standard room at a select Walt Disney World Resort hotel starting at just $899. It's long enough to enjoy your stay, but short enough you don't break routine for too long. It left me wanting more, which is a good thing! For us, the real cost issue is plane tickets…I'm not sure I could survive that long of a road trip with two small children.
While we were there, we didn't go crazy trying to fill every minute of our time there with things to do. There were group activities as well as free time to spend on our own in the parks every day. I didn't want to turn it into something stressful so we kept our plans low pressure.
Over the coming weeks I'll be sharing more in-depth details about our trip: where we stayed, where we ate, where we met characters, etc. Here's a glimpse at our time there in this video Disney kindly put together for our family:

If you have any questions about our trip, let me know in the comments!