One thing I admire about Hasbro is their inventiveness and ability to create unique and fun games. One of their newest games is geared toward toddlers and preschoolers ages 3 and up. While my daughter is only almost 2 years old, I knew she would want to try Elefun Snackin' Safari (Amazon affiliate link) with me.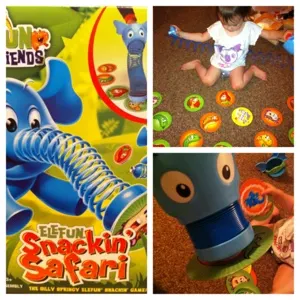 As soon as I opened the package she squealed, "Oooh!" and marched off with the game. I told her what it was called and she refers to it as "snacks." Right away she was intrigued by the slinky elephant trunk. There is minor adult assembly to snap the elephant pieces together.
This game can be played in a few ways with one or two players.
Place all the "snacks" upside down and try to find the Golden Tutti Frutti snack to win instantly
Be the first with the most matching snacks. (facing up or down)
Be the first to collect all of one color (facing up or down)
Play memory by replacing the upside down snacks if there isn't a match. (I thought of this variation!)
The concept is really cute and fun, but the execution is the difficult part. There are not a lot of snack cards, so it's hard to mix them up well and the suction cup is tricky for picking up the cards. I was getting frustrated with it, so you can imagine how a 3 year old may react when it won't pick up the cards or they fall off right away. You can see my demonstration here:
I understand you don't want it to be too easy, but I think the pick up is a little too difficult for younger children. The suction cup works great if you press the whole trunk down onto it, but not as well when bouncing it as a slinky as intended. I don't know if the suction cup needs to be larger or stronger, but it could be a lot of fun if this was tweaked. Rissa was perfectly happy to play it her own way though! She likes playing with the elephant heads on their own. She also likes using the snack cards as play food. She served them to me, pretended to eat them and placed them in her shopping cart.
_______
Disclosure: We received this toy free of charge in order to conduct a review. All thoughts shared are my honest opinions.