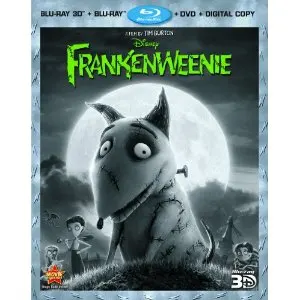 Frankenweenie on Bluray 3D/Bluray/DVD/Digital Copy was released on January 8, 2013. It was one of those movies I really really really wanted to see in the theater (and see in 3D!) but wasn't able to. So, I was thrilled to find out it was coming to home entertainment so soon.
Is it just me or do movies seem to be releasing on bluray/DVD sooner than they used to?
Neither Brian nor I had seen the original Frankenweenie short that Tim Burton made, but being fans of his work we looked forward to this one. Sometimes I forgot this was acted out with puppets and stop motion rather than drawn animation. If amazes me what they can create for films!
So, Frankenweenie is the story about a boy and his dog. Victor and his family live in New Holland, a town set in the 1970s. It seems to be a sort of sleepy town where nothing too unusual happens despite the eccentric classmates. When Sparky, Victor's dog, dies he decides to conduct an experiment to bring him back to life.
One of his classmates discovers his secret. Before long, all the kids have a pet they want to resurrect for the science fair. Things get out of control…
Rissa watched most of this movie with us. She didn't quite understand what was going on – she only knew Sparky had gotten hurt. It was pretty funny to see her surprise at Sparky's tail and ear falling off. Towards the end when things get out of control it got a bit scary for her. She wasn't terrified, but did verbalize being scared and came to sit with me. She didn't want to stop watching though!
I loved that this film was in black and white. I'm not sure that an undead dog would be very kid friendly if the movie was in color. Plus it added to the setting being in the past as well as being reminiscent of old horror flicks. The homages to classic horror was a nice touch as well. Yes, on the surface it may seem like a Frankenstein copycat, but it's more than that.
What I hope others also take away from Frankenweenie is the importance of allowing our children to explore new ideas. In New Holland, science was something the residents didn't understand and many seemed to fear, but the kids were excited about it and the science fair. Sometimes what they may be interested in is foreign to us, but it could be very important for them to pursue.
I thought the movie was going to be more "Halloweeny," but it wasn't. I admit I was a tad disappointed in that since I love Halloween, but it is probably for the best that it was not.
Victor's attachment to Sparky made me think about my old dogs. I was sad to lose them, but not sure I would want to bring them back like that. Overall we enjoyed the movie but not as much as I expected. We did, however, enjoy the bonus features! I think I might have enjoyed learning about how they made Frankenweenie a teeny bit more than I liked the film itself.
Do you have a budding scientist at home?
_____
Disclosure: We received a copy of this movie to review.