Whether this is your child's very first day of school or they are heading back to school, it's an important day for our kids.
A new grade level, new classroom, new teacher, new friends. And for some – a new school building.
To help my kids feel excited and think positively about going back to school, I like to celebrate it in a very simple way – by documenting it.
First Day of School Printable Photo Signs
This post contains affiliate links. We may earn a commission if you make a purchase.
Taking a picture of my kids on their first day of school makes it special for them and me. It's fun to compare pictures of them on their first and last days of school to see how much they've grown throughout the school year. They make great memories too.
Some of my favorite pictures and old home videos are from my first day of preschool. I will never forget that little yellow jacket and little blue bag. It made me feel special that my dad not only took a picture before I left for school, but he also took video of when I was dropped off at home afterward.
You can have as much as you want with back to school pictures. They can be serious or cheesy and funny, but they are still special for you and your kids.
I have a simple "First Day of School" printable below that you can use for any grade level or school year. I also have a full set of grade specific first day of school signs available. The full set comes in three color options: purple, pink, and green.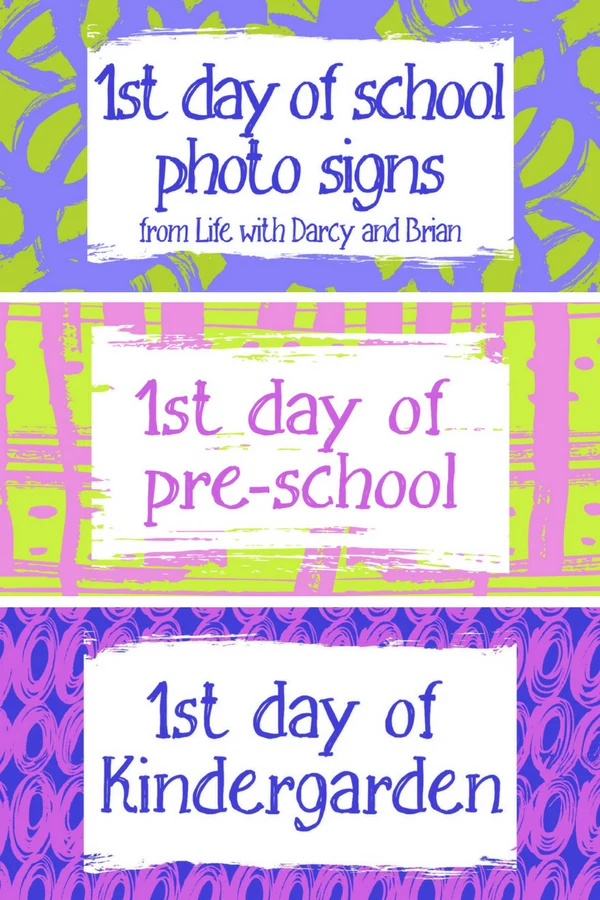 First Day of School Photo Signs included in the full set:
1st day of preschool
1st day of kindergarten
1st day of 1st grade
1st day of 2nd grade
1st day of 3rd grade
1st day of 4th grade
1st day of 5th grade
1st day of 6th grade
1st day of middle school
1st day of high school
1st day of college
These back to school photo signs are for personal use only.
You may print them out on regular paper, but for sturdier signs, I suggest printing them out on card stock or laminating them (I love this laminator). You could also put the printed first day of school sign in a frame.
Download either our single purple first day of school printable photo sign or a full set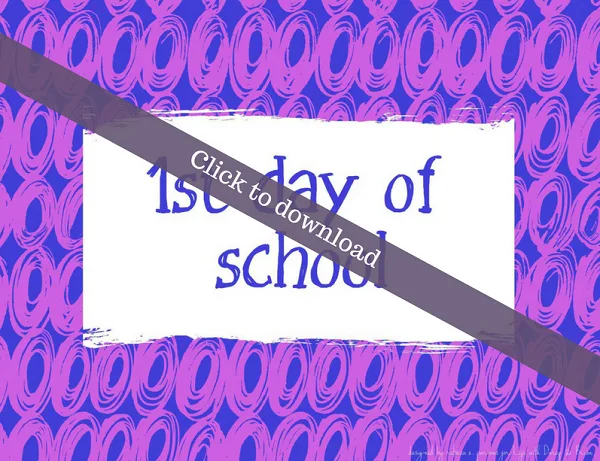 Want grade specific signs? Sign up here to receive the FULL PACK and three color options!
We hope you enjoy these printable first day of school photo signs! If you post a picture with them on Instagram, tag us at @darcyannz – we'd love to see them!
More back to school tips:
6 Easy Ways to Pack School Lunches for Kids
How to Find the Best Back-to-School Bargains