Disclosure: This shop has been compensated by Collective Bias, Inc. and its advertiser. All opinions are mine alone. #BoxTopsHero #CollectiveBias
Do you collect Box Tops for Education? Do you ever forget where you put them? (I do sometimes…)
I'm always looking for easy ways to help out at my daughter's elementary school. I love helping out in the classroom when I can or providing extra supplies, but I know that isn't possible for everyone.
This is why I love Box Tops for Education – because anyone can clip them from products they normally buy and turn them in to the school. As a board member of the PTO, I love that it's a simple year round fundraiser.
Before having kids, I didn't pay much attention to Box Tops on product packaging. Now? I actively look for them.
This year, I have two kids going to school – I still can't believe my son is starting preschool this year – which means two school supply lists. One thing they have in common is the request for paper goods. So, I headed to Walmart to stock up on items for both home and school.
To make my shopping go even further, I looked for double Box Tops on:
Kleenex® Trusted Care* 3 Bundle Pack
Kleenex® Trusted Care* 4 Bundle Pack
Scott® Tissue 20 Roll Pack
Viva® Vantage® 6 Big Rolls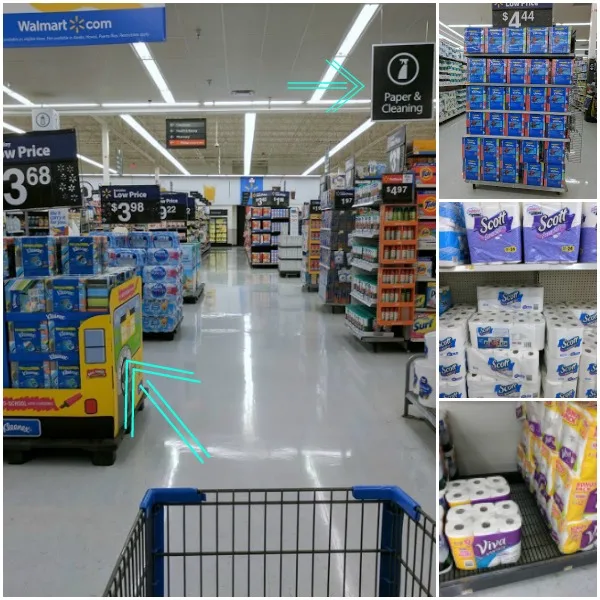 The Kleenex bundles were easy to find at my local Walmart. They were in a display in the middle of the main aisle and on the end cap in the paper goods section. The other two by the rest of the toilet paper and paper towels.


So, go get your double Box Tops with Kleenex Facial Tissue!
Easy Pencil Shaped Box Tops Collection Container Craft
Throughout the summer, I've continued to collect Box Tops for Education. However, I don't have a very good spot for them and they get mixed up with other papers and coupons. I thought a pencil shaped Box Tops collection container would be a really cute idea.
Materials:
Empty Kleenex box
Pink card stock or construction paper
Yellow card stock or construction paper
Empty toilet paper tube
Scissors
Glue
Single hole puncher
Ribbon or yarn
Duct tape
Directions:
Carefully open one end of the Kleenex box. Remove tissues if it is not empty yet.
Cut a strip of pink paper to cover one end of the Kleenex box. This will be the eraser. It's hard to provide exact measurements as it will depend on what size box you use.
Lay the box on the paper and trace the open flaps. Flip the box as you go.
Cut the paper out and glue it to the box. You may need to trim the paper around the open flaps or cut slits to make it easier to fold over.
Cut a toilet paper tube the long way.
Fold it over and cut at the seam. See which one looks like better triangle shape to fit the other end of the Kleenex box. This will be the point of the pencil. If you do not have a toilet paper tube, you may cut out a triangle from brown, tan, yellow, or white paper.
Glue the triangle onto the end of the box.
Measure your yellow paper so it overlaps on the triangle and eraser, but doesn't cover them up too much. My paper did not go all the way around. I covered the majority of the front first, then finished covering the back with a second piece of paper.
Take a strip of silver duct tape to go around where the yellow and pink papers meet. This will make it look like the metal around a pencil eraser.
Cut a slot on the top of the box. This is where you will drop in the Box Tops.
Decorate it! I clipped a picture of Box Tops for Education from the packaging and glued it on. You can also write out the words Box Tops.
To open and close the flaps to retrieve the Box Tops – there are two options.

Option one: use the hole punch to make two sets of holes through the box flaps. Thread ribbon or yarn through the holes and tie closed.
Option two: cut a small horizontal slit in the inner flap. Fold the outer flap down and make two vertical cuts to create a small section that can be tucked into the slit on the inner flap. This provides an easy open / close for the collection box.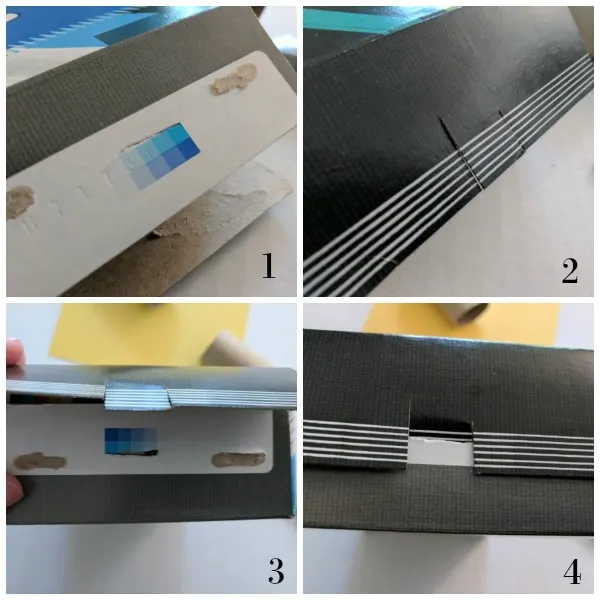 Even though I'm in the habit of collecting them, sometimes we forget to clip them before empty packaging hits the recycling bin. Now, I try to remove them right away.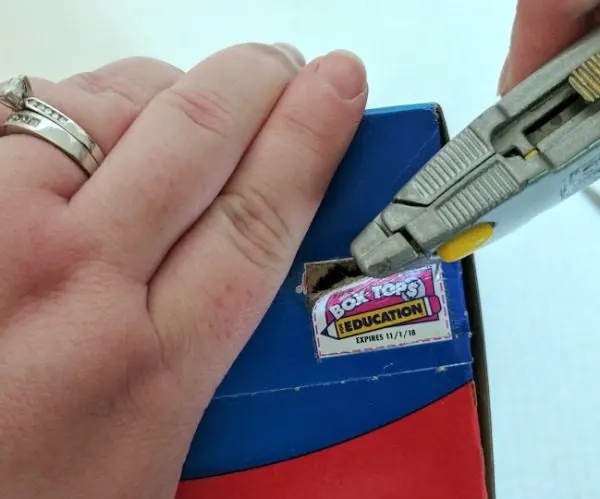 Depending on the type of packaging, I either clip them with a scissors or I use a box cutter to carefully remove them without wrecking the whole box.
I hope you like our pencil shaped Box Tops collection container craft and make one for your home or classroom!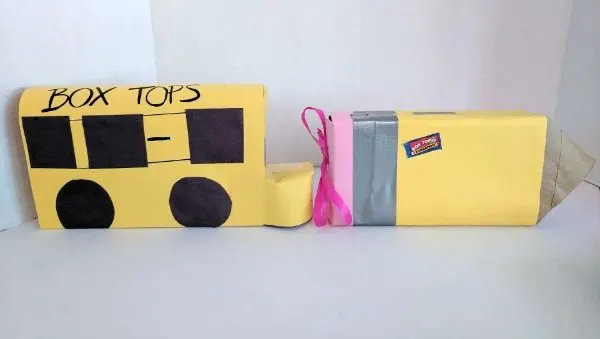 It's an excellent visual reminder to clip and collect Box Tops to help support your local school. I think I'll make one to send to school too. Box Tops are great, but double Box Tops with Kleenex Facial Tissue is even better!