We were invited to attend the Battery Tender MX-5 Cup races at Road America as media guests for Father's Day weekend. My husband and I haven't been to any races in years. When we first started dating, we went to watch his friend in several sprint car races. The Demolition Derby at the county fair was also a lot of fun to attend each year. (There's something satisfying about seeing and hearing cars smash together like that!)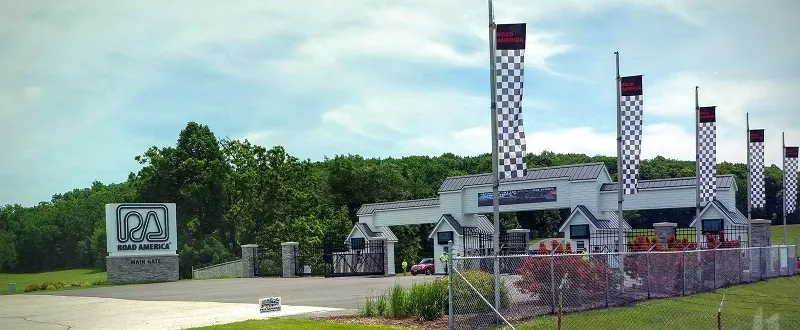 We've been waiting for the kids to be a bit older before taking them to any races or the demo derby. We aren't diehard race fans, but when we go, we enjoy ourselves. So, when our family was invited to attend, we looked forward to the experience. Plus, it was our first time going to Road America.

Meeting the Mazda Family
Close your eyes a moment and picture a race car. Can you hear the engine revving? Do you see the sponsor logos? Now watch as the driver climbs out of the car and pulls their helmet off. Who do you see? What does the driver look like?
I wouldn't be surprised if you pictured a male driver. Men dominate the sport of racing, but there are women racers too. My daughter was thrilled to meet two of three Mazda MX-5 Cup female race car drivers: Ashton Harrison and Sarah Montgomery.
Even though my daughter didn't realize how few women are professional race car drivers, she was SO excited to meet Ashton and Sarah. She showed a lot of interest in the cars and absolutely loved Ashton's pink roll-cage and pink driving suit (because pink is Aerissa's favorite color). She even got to sit in Ashton's #03 car! (This was the highlight of the entire day for Aerissa.)
We didn't realize how much of a family operation it was before attending this event. We met Glen and Alana Long of Long Road Racing, the official builder of the Global Mazda MX-5 Cup race car, as well as their son, Tom Long, the lead test and development driver for the new Global Mazda MX-5 Cup car. We loved learning how important family is to their organization. It made watching the races as a family even more enjoyable!
Chasing Dreams

We met comedian turned racer, Drake Kemper, in his signature driving suit which looks like a tux with a green bow tie. While some of the drivers we spoke with started at a young age, he began racing as an adult. Of course, he is not the only one. We learned there are many drivers who have other professions as well that participate in this series.
I had the opportunity to ask Sarah when she began racing. She knew she wanted to become a racer at 10 years old. It took a bit of convincing before her parents let her get started at the age of 12.
As the Battery Tender MX-5 Cup series was explained to us, we found it interesting. We didn't realize the different levels or how moving up worked. I was intrigued by how level the playing field is with the cars in this series, keeping the focus on the skill of the drivers. We also learned that the Mazda Road to 24 program provides scholarships to help advance drivers up the sports car racing ladder, from the Global MX-5 Cup series to the Mazda Prototype team. The MX-5 Cup champion earns a $200,000 scholarship!
Driving Compassion and Inspiration
Among the usual sponsor logos, we also spotted non-profit organizations represented. While speaking with Sarah Montgomery, it was clear she has a mind for business and marketing as well as the heart of a philanthropist. She shared the story of Lemons of Love (one of the logos on her car) with me. After that, I took more notice of non-profit organization logos on other cars.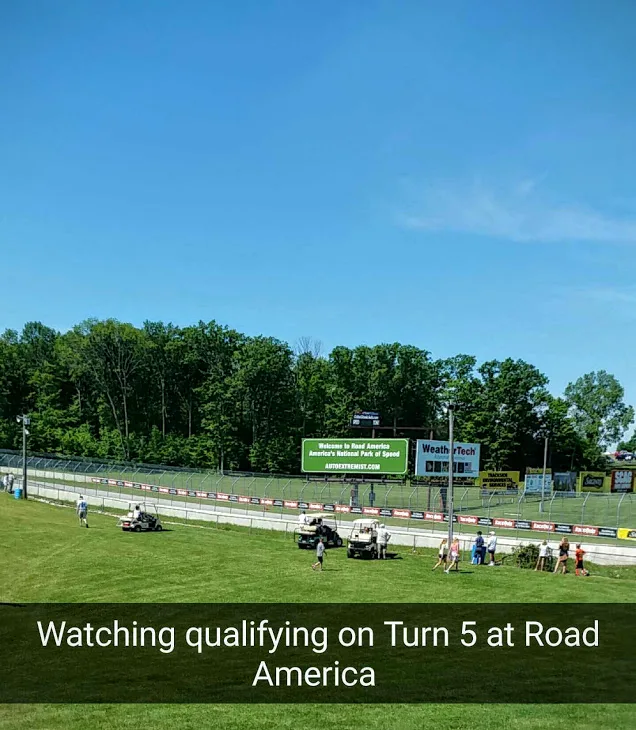 There were a few jokes tossed around about my kids being future racers. Having an early interest in cars is a common theme among race enthusiasts. My son loves playing with his cars at home and couldn't wait to get in the driver's seat of a Mazda. He kept asking to race and was disappointed when he couldn't actually drive (which was amusing for the rest of us). My daughter's favorite part was getting into Ashton's car. I think it's important for her to see women in a variety of professions firsthand and am so glad she had this opportunity.
We look forward to attending more races with the kids, talking about chasing their dreams, being inspired along the way, and giving back to the community in creative ways. In all honesty, the thought of either of my kids driving on a racetrack some day is a little scary, but I would support their checkered flag dreams.
Do you and your family attend races together?